A Dream Life
December 4, 2008
One day we were singing on the phone to B5 and we sung "We Belong Together". They thought we were very good so they asked us where we lived. We told the, "Omaha, NE" and guess what they said? They were coming down here just to meet us in four days since they were heading to Des Moines!

When time was up, as they said, they were here. They wanted to here us sing again so they knew it was really us doing the singing and not wasting their time. After that, some of the members thought that we were cute. Bryan asked Kourtni, Carnell asked Tianna and of course, Patrick asked Marshaya. When this little affair was over B5 invited us to Atlanta and that is an offer that no girl living here can put down. So, off we went.

When we got there we sung for P. Diddy and he loved us. He gave us a record deal, and our name was SNS (since that's what our nicknames started with) and we were on our ways to stardom! After a couple weeks, word got out that there was a new group in the industry and Bryan, Patrick and Carnell took the girls. We had our first concert on July 3rd and our intro was, of course with B5. The song was about how are feelings for them would never change and we'd always be together. After us came Chris Brown and then it was over. That was the best night of our lives.

Since we were on tour with the boys, Tianna, Marshaya and I had to stay in their tour bus. While we were back there three girls came back to meet all of us. They had outfits galore. One had me, the other Tianna and another Marshaya. We felt so loved because they started crying telling us how good we are and how they were our number one fans. After we mingled with them and took pictures, we headed straight for the hotel, packed our stuff and were on our way. We decided to go to Chicago to look around and go to the malls there. While there, these boys that did not look cute at all were stalking me, Tianna and Marshaya!

"Stop or else we'll get our big brothers on you", Tianna said but they wouldn't listen. So, as she said, we went and told Dustin and Kelly. After they were done with them we ran out because we had an interview with Oprah. She asked us so many questions. Finally, she asked us if the rumors were true if we were really adopted. We didn't even know how that came to peoples minds but all we said was no and left it at that. After the awkward conversations with her, we went to Red Lobster to get something to eat.

The next day was another concert. After that we went to our friends house and just had so much fun. Everyone was there from Beyonce' to Jay-Z. We couldn't stay long because we had to get to our new home in ATL. The first thing we did as soon as we got there was taking a nap. Then, when we were all refreshed and ready to go, we went to the studio and made about 3 songs. It was so fun! I also made a song by myself with Bryan and of course, as I thought, they loved it.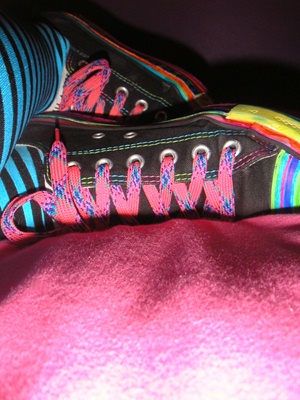 © Melanie R., Milpitas, CA