Believe Me
July 7, 2014
They didn't believe me. Not at first.
The chemicals of the neutralizer still coursing through their veins, slowly embedding itself in their own DNA, keeping them from feeling anything; how could they believe me when they couldn't even fathom that belief? The chemicals kept them from cradling hope in their hands; from warring anger in their thoughts; from finding love inside themselves. No, they couldn't even feel the faint tug of joy as it taps your shoulder. Just cold, dark persistence to complete whatever it is they can before it is too late.
I was different. I felt. And after I met her, that once lifeless persistence molded into something more, something that the chemicals couldn't stop. Over time, I would learn to call it love. Something so simple, yet so beautiful, that not even the neutralizer could stop it. And once I learned how to fight the chemicals, once I learned how to feel and become something more, I learned how to break through them forever. So I did.
On the missions after I had first started to beat down the barriers, after I had started to unveil who I truly was, I noticed something. Just out of reach, in the corner of my eye, teasing me. Each time we slipped out of one reality and into the next, I saw something more than that cold, dark persistence to get where I was going. The missions themselves became dull, tedious. The only reason I kept going for so long was to get a chance to leap through that persistence and find what I had been itching at my soul since I freed myself - to see what was teasing me from just out of reach, a glint caught in the corner of my eye.
Eventually, I did break through. And I saw a door. A door that I could wrap my hands around and press against, a door that I could open - if only I had the key.
Finding it wasn't easy. The others were noticing my change - they were uncomfortable with me, because I wasn't the same. And yet, while the rest shied away, she would find something within herself that allowed her to step forwards - to actually pretend, for my sake and for the others, that everything was normal. She gave me the key, because each time she would talk to me - just the simplest of words - I would feel something more than I could ever have imagined. Something more right than I could have ever fathomed.
The key was love.
When I found that out, when I opened the door and found that new universe that only my emotions could harvest, I never wanted to come back. Things there were right. Each blade of grass or breath of air was bleeding with emotion; living with feeling and purpose beyond what their momentary mission might be. It was perfect, and there was nothing in my other world, the cold, heartless world, that could compare. I did go back, of course, but only for one reason - for her.
But by the time I came back, they had plotted against me. They had decided that I was corrupt; that by feeling anything more than they could, I was walking the wrong path. They had planned a way to rid me forever, to cast me out as a lonesome pariah, to leave me stranded. They had found a way to throw me in the middle of nothingness, a noplace between this universe and my own.
But it wasn't their betrayal that bothered me.
It was the fact that she was the one who did it, in the end.
She cast me out, after showing me that she was capable of love - that she was willing to face me and face the truth. She made me love her, and in return, she tried to kill me. Even if I never did die, something was destroyed when they cast me out. Something was lost that they would dearly regret losing.
What they didn't realize is that by casting me out forever, they only opened that door a little wider to my own universe. That noplace didn't care about me, but my world did. It wanted me back. And when I finally stepped through that door again, I knew what I had to do.
No, they didn't believe me. Not at first.
But when I lured them there, lured them to my kingdom and to their deaths; when the blood was still pooling around my boots, the soil drinking it like wine; when the spark of life was just starting to seep out of them forever - when I finally revealed myself to them and let them pay for their betrayal, then yes, they believed me.
There is only one left, now. Running helplessly through their own universe, pretending that they can escape what they did. Pretending that they hadn't sealed their fate the moment they cast me out. Pretending with a cold, hopeless determination, that running away will somehow save them.
But if one thing is certain, it is that their belief, their realization that they were wrong all along, that I was right, that I was pure while they were corrupt; that belief is the last thing that they will ever know.
That belief is the last thing she will ever see;
Belief, and me.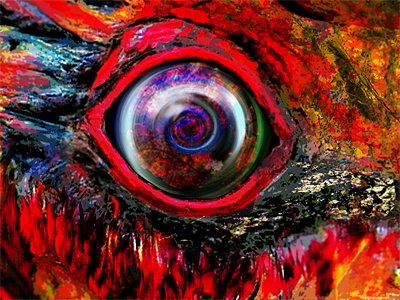 © Tom M., Philadelphia, PA