The End- Part I
December 21, 2014
      I hate the phrase "The End of the World". I find it to be complete bullshit. 
      I suppose I should tell you why. My mother always said I handed people conversations mid-thought. She'd always sigh, and say, "Context, honey, I need context." Like that, I swear. With italics and everything. You could hear the word stretch sideways out of her mouth. 
      Well anyway, the so-called End of the World happened about a year and a half ago. Maybe less, I don't know. Calendars don't exist anymore. Much to the dismay of nobody, of course. People, like calendars, don't exist as well.
      Except, I guess that's not completely true, is it? If it was, it'd be a little awkward for me to still be here, right? Hi, I'm Amy. Nice to meet you. I'm probably one of the last things alive on Earth. Fun, right? Honestly, I'm a little pissed.
      I know, I should be having one of those moments full of righteous angst, where I despair at the fate of humanity  and then realise I carry all of its hope on my admittedly broad shoulders. I should stand up straight and search for life, and just as I've collapsed from the wretchedness of my situation (and you know, lack of food and water), a suitably hunky hero will rise out of the smoke, and take pity on me. He will carry me back to the raggedy, but scrappy community where he is the reluctant, but kind and fair leader. We will repopulate the Earth. It will be awesome.
      Accept, I'm not actually into the whole angst thing, to be honest. Or the whole procreating thing. It's messy as all get out, and I never liked babies. I'm sure there's probably someone somewhere who can do that instead of me. Someone with skinny jeans to make her ass look good, and skinny genes to make the Human Population 2.0 as disgustingly stick-like as she is. She can inherit the earth, for all I care. She's probably in some love triangle as we speak.
      Anyway, that's not the point I wanted to make. I was complaining about the End of The World. That's what they kept calling it on the news when there were still enough people  to warrant TV. Even then I was fed up with the term. I thought they were being unnecessarily dramatic. And now I'm the only one alive enough to fully appreciate just how ridiculous the phrase really is.
      Some days, when I'm tired of silence, and tired of watching DVDs on my mom's old flat-screen, I'll talk to myself about it. I figure some kind of spirit might listen in, and agree. If there are ghosts, and they're forced to watch the living, I figure I might as well make it as interesting as I can for them. It's not their fault there's only me left for them to watch. I'm actually pretty boring, when I think about it. Most days I just hang out in my living room, eat, and watch a few movies. The world outside is mostly dead, and I have no interest in exploring it.
      My house is still pretty intact, for having gone through the apocalypse. I have a bed, a pantry full of nonperishables, and a working television. There's nothing new to watch anymore, but that's all right. My mom was a movie nut, and I've been slowly making my way through her collection. I figure when I run out of food and entertainment I'll walk twelve feet to the neighbors' house and set up shop there. I can probably work my way down the street like this until either I'm old and gray, or Armageddon realises it forgot me and comes back with a bat.
      I don't mind my life like this. I was never very motivated even before everyone died. I knew I'd eventually have to get up and do something, but now, there's not much urgency to do anything. I can sit on the couch and get as fat as I want.
      Ha ha ha. Ironic right? Everyone else is dead. And I'm just a deadbeat.
      I still haven't told you my issue with the End of The World, have I? Mom always said I went off on tangents. I still do, I guess, but usually I keep my tangents to myself. It's only sometimes that I'll let myself just talk out loud. It just gets so damn quite sometimes. But I swear, it's, like, a once a week thing. As bored as the ghosts might be, I'm not going to make them listen to the erratic spinning of my brain just because there's nothing else to listen to. That's unfair. 
      My mom was a nice lady, I suppose. She made a pretty good chocolate cake. I hope that gives her some sort of social standing in the afterlife. She divorced my dad about six years before the apocalypse. He was always on business trips and she was always complaining about it and I guess they just got fed up with each other. She got custody of me, and I got her cake.
      I seem pretty self-absorbed, don't I? I suppose that comes with being an only child, and then being an only human. There was no one else to think about but me.
      I say there was, because today, something changed.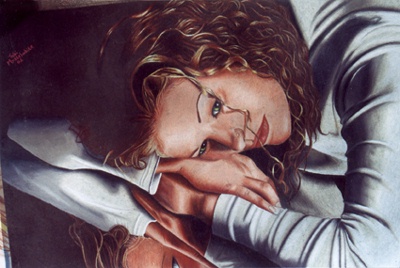 © Tabitha M., Kannapolis, NC