A Casing Molded Around Air
January 21, 2017
The couple in the Calister's house was the type of couple who never argued. They were the couple others wished they could be. Arielle Calister aspired to be flamboyant, who loved to be loved. Her face, dirtier than a homeless man's sock, had no appeal. Her body was not an option for most men, getting little attraction from any man. She was shorter than your average woman, believing that was the reason her father adored her so. Her entitled husband only loved the money that spilled from her bank and into his. Jacob Calister was quiet, and honest. The ugliest man in any place Arielle dared to venture, and so the only to realize the potential she had.
The two lived in a small home off the corner of Bennett's Creek, down Kempton Park Road. There wasn't much there but the various green lights turning red at the sense of motion, or the rare bird that flew by in hopes of finding its family. Many families left the area, not wanting to get involved in the politics surrounded solely on the state you live in. With little homes and a handful of humanity, nature prospered and called it their home. The Calister couple lived in Arielle's childhood home, taking care of her father as he dwindled. Every summer, he would plant pansies around the growing tree in the front yard. Psychedelic colors blossomed, creating a pink, yellow, purple, and orange ring, tying the love and hope her father aspired to instill in his home. His love didn't help at all with his health; however, and so he was not well enough to keep them up, and Jacob wouldn't go out of his way to do it.
Arielle's father died one year ago. He didn't like Jacob, but since the day he was buried, his opinion carried little weight to the lives of the living. Arielle took the band that symbolized the only hope and love she could ever receive from her father's dead hand before he was lowered into the ground and forgotten.
Arielle was a tiny slip of a thing, but her father loved her. He was the only man that never thought of himself and she adored him. The gentle touch of his caress allowed her to breathe each day, and when he left, a part of her did as well. No matter what any doctor said, she refused to believe he was dying, he was stronger than that. She had this sliver of faith that seemed bigger than anything, that he would never leave her, that he could never leave her.
She woke up after a long day of nothing. Bleary-eyed, she went downstairs for breakfast, the house was empty, even the furniture had gone. She wondered why all of this over a ring. The ring. It was so beautiful. It shined with glory, it ran with resonance. Every emotion was turned from a gaseous state to solid by some short form of a miracle and displayed as a simply pleasant ring. It was rose gold, properly plated metal of nature and class, the way Arielle adored. She wore it on her ring finger, instead of the one Jacob gave her out of custom.
She decided on a glass of milk with bread and butter for breakfast. There weren't too many other options for her, he took everything, but that didn't matter as long as she had the ring. Arielle knew that it must be happy that it belonged to her still, Jacob wasn't giving it reverence. He told her before that it was worth so much, which made it and her both happy, but then he suggested they sell it, and that wasn't something that could be easily forgiven. Arielle didn't understand how something so cruel could be said and ever be forgotten, to be sold, as if property. That was the whole reason why the northerners were fighting the south.
The Calisters argued relentlessly, as if anything was going to come from them. Arielle remembers those days. She would hold the ring only at night; it allowed her the one piece of happiness each day. The other couples seemed to notice the new ring, but nothing was spoken of it. She would lie there in bed, holding onto the only bit of love she would ever get so close to touching, and she thought. She remembered and was glad things had gotten better since those days.
Leaving the glass on the floor where she sat, she went up the flight of stairs to her bedroom. Ring still firmly hugging her finger, she undressed and prepared to shower. Arielle remembered how she never could have done so before, bring the ring into the shower. The fear of it easily sliding down the length of her finger, clanging to the tiled flooring below, and swimming down the drain terrified her, but now she had faith. It would never leave her, it would never let go.
In the beginning of their relationship, she had a difficult time trusting. Arielle knew there was nothing being hidden from her, as they always were together, but she couldn't get herself to fully commit. They would talk all night, but still, she felt like something wasn't being said. It normally didn't say much, but it cuddled with her, so she felt safe. As the nights went on, they got closer, and the nights seemed to take up less time, with her only getting an average of three hours' sleep.
The ring and Arielle made a promise to each other, and it symbolized that promise. It told her they wouldn't see another and that they were solely each other's. The promise caused Arielle and Jacob to separate more so, but Jacob never cared much for her, no one did. The ring told Arielle to be wary of Jacob, but she matter not whether he took from her, as long as she had the rose gold ring. When she woke up that Thursday morning, it was no surprise Jacob was gone.
It made her happy.
The couple had said their vows on a field overlooked by pine trees. The sun stood high, spraying down and burning much of the already browned grass. There were no clouds. The direction was clear and simple. The two never argued, and the other couples seemed to envy this rare ability. Arielle no longer wore a ring of displeasure and hostility; she now wore the root of love and beauty. She no longer was just a casing molded around air; she was, within its very definition, light. With everything she was, it made her into life, and with the life it granted her, she loved it.
As the water poured down, washing away all the falsities and displeasures, she gazed at the rose gold ring that tightened around her finger as water dripped from her fingertips. She never expected to truly be loved after her father died, especially by something so miraculous. It told her of all the things it loved about her and Arielle wanted to make it happy. As she stood, her cheeks lifting, she grabbed hold of the soap. She rubbed its bubbles onto her wrinkly palm, set the soap back down, and twisted the ring from her finger. Holding the ring, she took a breath, started at her arms, traveled to her neck, and down her body. They were one and she was lucky.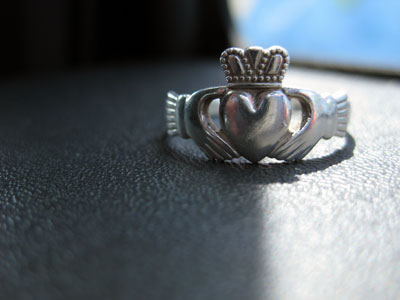 © Kaelyn L., East Northport, NY