The Flapper And The Man
March 31, 2012
The Scene opens in a loud and crazy black and tan club in New York city in 1924. A tall elegant flapper with black bobbed hair a feather behind her ear and a short red dress and high heels walks in and everyone turns to see her smoking a cigar idly. After a moment everyone returns to dancing and partying. The flapper takes a seat in the back tapping her foot to the music and a man with dressed much like a gangster from the 1920's appears. He smirks bowing to her. He has short brown hair and creamy brown eyes to go along.

Man: Hello Ma'am

*The flapper looks up blinking a few times throwing her cigar to the ground and smashing it into the ground.* Flapper: Oh Hello. *she says venom in her voice.*

*The man takes a step back for a moment but smirks instead of leaving* Man: May I ask you for a dance.

Flapper: No.

Man: Why not?

Flapper: Because, *She poked him in the chest angerly.* I don't like you.

*The man chuckles and sighs.* Man: You aren't acting properly *he laughs at his own joke.*

*The flapper raked a hand through her raven black hair irritated.* Flapper: Will you leave!?

*The man smiles.* Man: I'm guessing you don't want any *he bent down whispering in her ear.* Alcohol.

*The flapper looks up and smirks.* Who doesn't want Alcohol? *she said slyly winking to him.*

*He nodded chuckling again taking her hand and leading her out of the black and tan club. He leads her through a few dark allies. (If wanted add a few lines of small talk) The man throws open a small shed door into a bar containing about six other people who are slightly tipsy.* Man: Ello Men! *he shouts joyfully, in response the men lift there glasses. *

Flapper: *she smirks and giggles walking to the bar flirtacously and asking for a glass of alcohol. The man complies without a word handing her a glass.* Thank you *she chirped.*

*After an hour of drinking the Flapper stands and leaves quietly but winks at the man as she leaves.* Hope to see you again. *she said brushing her hand against his chest slamming the door behind her.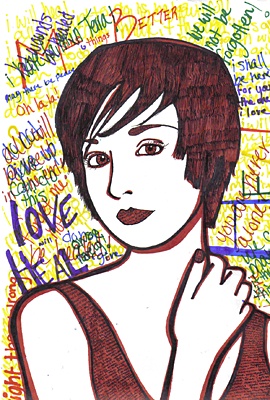 © Sara D., Aiken, SC