How I Prepared for an Audition
April 20, 2012
Act: 1, Scene: 1

SETTING: The hallway right outside of the auditorium at school. There is a brick wall and some signs on it that read "Thoroughly Modern Millie Auditions, Tuesday, October 16 in the AUDITORIUM." On stage left, there is a directional sign pointing towards the stage left wings that reads "STAGE DOOR." On stage right there is a green EXIT sign with an arrow pointing towards the stage right wings.
AT RISE: AETHER is waiting to be called to audition for his school play. He is surrounded by many other auditionees.

ANNOUNCER
(off-stage in a deep voice)
We will now be auditioning the part of Jimmy. You will be called in groups of five. So can my first five Jimmy's on line come in? Thank you, and good luck.

AETHER
AETHER looks toward the stage door as the announcer speaks, nods, then starts to drink from the bottle of water in his hand. He puts it down and does some neck rolls, then stops with an awkward expression on his face, realizing how odd that looked. Then, he takes another sip of water from his bottle, puts it down, and begins to quietly and nervously practice lines.
Okay, let's see… "She doesn't want to see me! Ban-"

WILLIAM
(obnoxiously)
Practicing lines I see? I would be practicing if I were you. There is some tough competition in there. A lot of guys who auditioned last year.

AETHER
(looks at him, nods, and continues acting)
"She doesn't want to-"

WILLIAM
You know, I was IN the play last year. I happen to know Mr. Billz personally. He's the director of the play, if you weren't already aware. He's such a great man.

AETHER
(more loudly and realizing WILLIAM won't stop talking)
Who are you? I mean, sorry, what's your name?

WILLIAM
(matter-of-factly)
I'm William. And what is your name? What is your background? Where are you from? Forgive me, I like to know about my competitors.

AETHER
My name's Aether. I was actually a lead in my middle school play last year – I'm a Freshman from Old Tappan. We did Annie and I played Daddy Warbucks. Everybody's expecting a really good audition and part from me, and I just don't think I'm cut out-

WILLIAM
(obnoxiously)
Ah, I see. Well, have you ever been to any of the performing arts camps?

AETHER
(stuttering at first, then more easily)
Uh, well, uh, yeah. I've been going to one for the past few years. Just the local one run by the middle school, but I think that it's really -

WILLIAM
(cutting him off)
You know, I went to French Woods last year. And do you want to know who my counselor was? It was Mr. Billz. He thought I had done a great job at the camp. He told me I was one of the best.

AETHER
(sounding less interested and nodding)
Cool man.
AETHER takes his water bottle again and begins to drink from it. He clears his throat then begins to sing 'What Do I Need With Love?'
"WAIT A MINUTE, JUST A MINUTE, NO, NO, NO, NO. I'M A –"

CHANTELL
(singing to a tune she made up)
I SEE THAT YOU'RE PRACTICING YOUR SINGING. I SEE THAT YOU'RE ACTUALLY PRETTY GOOD. I'M A LITTLE NERVOUS FOR THE AUDITIONS, MYSELF.

AETHER
(confused)
And, not to be rude, but, who are you?

CHANTELL
(singing – building up to a belt)
MY NAME IS, MY NAME IS, MY NAME IS –

AETHER
(cutting her off annoyed)
Just tell me your name!

CHANTELL
(more quietly and quickly, but still singing)
CHANTELL.

WILLIAM
(noticing her for the first time)
Hello, Chantell! I didn't see you there at first!

CHANTELL
(still singing)
WILLIAM! WHERE DID YOU COME FROM?

AETHER
(realization)
Oh, so you two know each other?
(more to himself and the audience than to CHANTELL and WILLIAM)
What a surprise.
AETHER clears his throat again and takes a breath to sing, but is immediately interrupted by WILLIAM

WILLIAM
(obnoxiously still)
Yes, we are very good friends. Chantell has been to my house numerous times. Actually, many people have been to my house. That includes some adults. As a matter of fact, last year I had a cast and crew party at my house. Mr. Billz was there.

AETHER
(completely annoyed)
Really? You don't say? Seriously, guys, can I please-

CHANTELL
(bursts into tears)
Wh- d- wh- huh, huh. Why…why would you mention that?

WILLIAM
(patting her on the back)
There, there, Chantell. There is no need to weep.

AETHER
(gradually looking more and more confused)
Why is she so sad?

WILLIAM
(unfazed)
Oh, she couldn't go to that cast party last year. It was one of the biggest, you know.

AETHER
But, I mean that's no reason to…

WILLIAM
I know that.
(more quietly and to AETHER)
Some thespians can overreact SO much, sometimes.

AETHER
Of course.
(talking to himself)
What have I gotten myself into? Just remember, everyone is counting on you for this.

CHANTELL
(looking up, yet sill crying)
Hey, I heard that, Will!

WILLIAM
(doing a bad job of acting apologetic)
I'm sorry, Chantell. I didn't mean to hurt you in such a way. Can I refrain from comforting you now? It is getting STIFLING in this room. Well, hallway, anyway.
WILLIAM takes his arm off of CHANTELL's back, unzips and removes his jacket to reveal a t-shirt with Mr. Billz's face on it, that reads in big letters "I ? MR. BILLZ."

CHANTELL
(immediately stops crying and begins to sing again)
I REALLY LOVE YOUR SHIRT, WILL!

WILLIAM
(beaming)
Thank you so much Chantell! Your words mean the most to me!

AETHER
(turning away from the two friends)
I never realized that the theater world was falling apart at the seams like this. Maybe, just maybe…

WILLIAM
You can call me Bill, Chantell. You too, Aether. It sounds so much like my idol's name. Can you guess who my idol is?

AETHER
(disgusted)
I couldn't even imagine who this person could be.
(to himself)
They're all counting on you.

WILLIAM
It's Mr. Billz.

AETHER
(nodding)
Naturally.
AETHER takes another gulp of water, looks around, shrugs realizing who he's standing with, and starts doing cramp rolls in the hallway to warm-up his feet.
CHANTELL
(watching AETHER; still singing)
I SEE YOU'RE PRACTICING DANCE STEPS. THAT'S A GOOD IDEA.

WILLIAM
Right you are, Chantell. I was told that dancing is an essential part of today's audition process. Practicing is always a VERY important part of how you perform in an audition. Those words were told to me by my father, an incredible man. You know, my father actually happens to be-

WILLIAM and AETHER
Mr. Billz.

CHANTELL
(looking at WILLIAM confused; still singing)
ACTUALLY, I'M PRETTY SURE MR. BILLZ ISN'T YOUR FATHER. IF HE WAS, WOULDN'T HE LIVE IN YOUR HOUSE.

WILLIAM
(clearly annoyed)
Chantell, how are you even auditioning for this part? You aren't a man, and everyone knows that Jimmy is one of the male leads in Thoroughly Modern Millie.

CHANTELL
(sits on the ground and cries)
I-I-I didn't make it on time f-f-for the audition for M-M-Millie. Why a-are you s-so judgmental?

ANNOUNCER
Would my next five Jimmy's please enter the auditorium for their audition? Thank you.
CHANTELL remains sobbing on the floor. WILLIAM eagerly begins walking towards the stage door while AETHER begins to walk in the opposite direction towards the EXIT sign. WILLIAM turns to look at AETHER concerned.

WILLIAM
(pointing towards stage left)
Aether, you do realize that the stage door is THAT way, right?

AETHER
(nodding and still walking toward the EXIT sign)
Yep.

WILLIAM
But…but you're going towards the EXIT sign.

AETHER
(Turning around to face and speak to WILLIAM, and yelling at him when he does)
Exactly. Because, y'know what? You're all crazy in here! I don't care who's counting on me or who wants me to be Jimmy or who wants me to be on Broadway; I quit. You're an obsessive stalker.
(points toward Chantell)
She's a psychotic singer. I can't deal with you people. If this is what the theater world has turned into, then I'm out of it.
(begins to leave, then turns back much calmer)
I hope that you have a good audition, and a happy thespian life.
AETHER starts exiting stage right. WILLIAM begins to walk briskly after AETHER, while CHANTELL promptly stops crying and stands up. They are both seemingly desperate for him to come back.

WILLIAM
I'll call Mr. Billz for you and tell him what is troubling you. I know that he'll understand, especially if it's coming from me.

CHANTELL
(wiping her eyes and singing once more)
YOU COULD ALWAYS COME BACK ANOTHER DAY! I SHOULD KNOW, I DID. YOU WON'T BE ALONE. PLEASE COME BACK, AETHER!
AETHER exists. WILLIAM and CHANTELL continue to ramble about AETHER coming back as the lights fade.

THE END.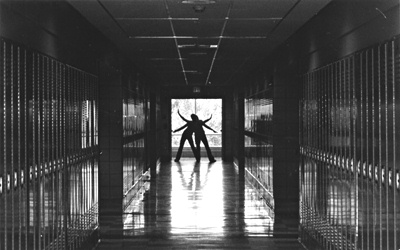 © Sheera G., Marblehead, MA