The 24 Hour Cafe
July 11, 2013
SETTING
A cafe in a big city, the middle of the night. Rain can be heard outside. There are a couple tables with a few chairs each and a sign that reads the "24 ­hour cafe"

CHARACTERS
KARA, mid­ 20's, a waitress who is more than meets the eye; seems sweet but is sassy underneath.
JONAH, mid­ 40's to 60's, excitable and very drunk, has random outbursts.
LEO, late ­20's, charming and full of himself; talks a lot; shares a past with Kara.


THE 24 HOUR CAFE

A quiet cafe at night. Rain can be heard outside.

(JONAH sits at a table drinking. KARA stands tapping her pen impatiently)

KARA
(to JONAH:) Hey, Can I get you anything else?

JONAH
(Chuckling to himself:) You say somethin' Blondie? Yeah, Gimme some more beer.

(KARA moves to take his glass)

JONAH
Thanks Sweetheart...
(chuckles again and then begins to cough violently)

KARA
(panicked:) Are you alright? Sir, hello, are you okay?
(hits JONAH violently on the back)

JONAH
(recovering, surprised:) Wha...Woohoo...Yeah! What a rush! Thanks Honey. Yeh practically saved my life...(chuckles and then stops suddenly, angry:) Hey- Where's mah drank?

KARA
Are you sure- I mean should you really be drinking mo-

JONAH
(interrupting KARA:) Honey, I'm payin' you to give me some more, so gimme some more of mah dang beer!

(KARA sighs and walks off stage)

(LEO enters from off stage. He holds a red umbrella in one hand and wears a trench coat and hat [NOTE: Umbrella does not have to be red, just one article of clothing needs to be red, perhaps a scarf]. He is obviously wet from the rain. He sits down and puts his feet on the table and makes himself at home.)

LEO
(half to JONAH and half to himself:) Well well, look at this. Finally some place that is actually open at this WRETCHED hour. I practically stumbled upon this quaint little joint here. How quintessential... Not too shabby Kara...not at all...You'd think the city would be hopping right now, parties on every street, but NO SIREE, ever since all those wretched murders on this side of town, everything is practically dead...no pun intended... (chuckles and then trails off) I mean what's so bad about wanting to have a good time? A little murder never stopped ME.

JONAH
(wheezing laugh:) I'll drink to that! (Looks around and realizes KARA has not returned with his drink) Well I would if that girl actually brought me a drank...BLONDIE, Where you at?

KARA
(reenters in a rush) I'm so sorry, I've got your drink right here. Here you go sir. Is there anything else I can get you? Another drink? A cab maybe?

JONAH
No thanks Pumpkin, I'm fine. Unless you wanna give me a little something extra...(JONAH tries to grab KARA's arm, but she pulls away disgusted)

KARA
(repulsed:) Oh no, don't even think about it. The only things I give men who come in here at this time of night are drinks and the occasional cab ride home when they're too drunk to stand.

LEO
(standing up) Really, only drinks and cab rides? What a pity, I was hoping I could get AT LEAST a hug from my old friend Kara.

(KARA now notices LEO and turns to look at him. She is surprised and then disgusted)

JONAH
Don't even try, this'n won't give you a thing (burps loudly).

KARA
(to LEO:) You...Unbelievable. Coming here... Get out. NOW.
(KARA walks towards LEO menacingly. LEO tries to grab her but she pushes him away towards the exit. JONAH watches the interaction excitedly.)

LEO
Whoa there. Come on Kara, I thought you'd be thrilled to see me. What's it been, two, three years?

KARA
More like five. And a half.

LEO
Wow, that long? And you still look as great as the day I last saw you.

JONAH
(slurred:) Yeah she does! (wheezing laughs and then passes out suddenly onto table)

LEO
Is he okay?

KARA
(disgusted:) He's just drunk. Don't try to change the subject. What you said before, don't you mean the day you left me?

LEO
You don't understand Kara.

KARA
(impatiently, shouting:) Oh I understand completely. What are you even doing here still? Didn't you hear me? I told you to get out, didn't I?

LEO
Ssh, you don't want to disturb the other customer, do you?
(KARA and LEO look at JONAH who has passed out in his seat)

KARA
He's fine.
(Awkward silence)

LEO
Kara, look at me. I didn't leave you. We mutually agreed to part ways.

KARA
I don't think I agreed to be left behind like that Leo...
(hushed at first and then shouting:) I was all alone that night. All alone at the scene of a crime... You drove off without me and left me to be caught by the police and rot in jail. JAIL, LEO! For two years! (pauses and glares at LEO) No thanks to you, I got out early on good behavior and because they never actually found the money I supposedly stole.

LEO
Ah, what a shame. Losing things is the worst, isn't it? Just yesterday, I was looking for that wretched book you gave me for Christmas all those years ago. Remember that? And I couldn't find it, so I decided to come track you down and see if you could remember the blasted title or if you had ANY idea where it could possibly be.

KARA
(sarcastic laugh) You always hated reading. You and I both know that's not the reason you came to find me.

LEO
Oh my sweet little Kara, you always did prefer to cut to the chase.

KARA
And you never knew when to stop talking. (sarcastically) What a pair we were.

(Silence)

LEO
(to himself) "Crime and Punishment"...

KARA
What?

LEO
"Crime and Punishment". It's the book you gave me that year for Christmas. How fitting. (laughs)

KARA
Are you done Leo? Or should I call the cops on you now and turn you in like you deserve?

LEO
You wouldn't call the cops on me.

KARA
Of course I would. I already did my time.

LEO
Are you sure?

KARA
Positive. There is nothing more they could do to me, but YOU on the other hand, well they could do PLENTY to you.

LEO
Okay, go on then. Call the cops. And I promise I won't leave you again. (LEO leans back in his chair as if he's settling in)

KARA
Okay, fine. I'm just going to go have a chat with my pals at the precinct. (KARA looks uneasy, but she gets up and walks away as if to get a phone)

LEO
(holding up his hand) Wait. Maybe you should hold on a second before you do that.

(KARA stops)

KARA
Brilliant, what is it now?

LEO
Perhaps you should check on our friend the drunk over there. (motions to JONAH)

KARA
He's fine. He just had too much to drink.

LEO
Really?

KARA
Yes, really. Trust me, I have seen my fair share of drunkards.

LEO
Okay, I do trust you, but do you trust ME? Trust me when I say this, maybe you should check on him.

KARA
Wait, what are you even implying?

(LEO just grins and nods towards JONAH. KARA walks hesitantly towards JONAH. She checks his pulse and then gasps and jumps back in surprise.)

KARA
He's dead.
LEO
I know.
KARA
How...Did you know? Did you do this?
(LEO just chuckles)

KARA
You are disgusting. You just killed an innocent man.

LEO
True, I am fairly disgusting, but he wasn't innocent. You know those murders that have been happening all over the west side of town?

KARA
Yeah, of course. Are you telling me he was responsible?

LEO
Yep, his name was Jonah Delasantos and he's killed 14 people over the last 3 years and who knows how many more before that. I was just doing the general public a favor. (Grins)

KARA
Stop grinning like a little kid expecting congratulations from his mom. Personally, I thought YOU were responsible for all the murders around town.

LEO
What, me? Never. I'm innocent.

KARA
Are you forgetting that you just KILLED someone? You are insufferable. Get out Leo.

LEO
Sure, I'll just leave you alone at the scene of a crime again. Just like the good old days.

KARA
(exasperated:) I should've known you'd try that again. What's going on here?

LEO
Well, you see, I need your help with something. The dead one in the corner is what I like to call
"insurance". This way you won't try to kick me out, because then, you'd be left as the only suspect at the scene of the crime, and I don't think we want a repeat of five years ago, do we? Its a win­win situation really. Well, for me atleast.

(LEO grins again and KARA sits at the table in defeat)

KARA
So tell me, what do you need me to do?

LEO
I'll give you the details on the way.

KARA
On the way? Where are we going?

LEO
Spain. But that's unimportant. Tell me, can you still forge documents and pick locks like you used to?

KARA
Of course, though I am a bit rusty.

LEO
Don't worry, its like riding a bike. You never forget. It'll be just like old times.

KARA
Don't act as if we're partners again. I'm just helping you this once and then coming back here. I have no desire to go to jail again.

LEO
You won't. Because this time we won't get caught.

KARA
You mean, "I" won't get caught? If anyone's getting caught here, its you. But actually, even though I have no reason to, I believe you when you say we won't get caught.
(LEO smiles at KARA)

LEO
Good.

KARA
Hey, We should get going while its still night. (She stand up and walks towards JONAH's body) Come here Leo and help me move him. I don't want the body in my cafe. We can dump him in the alley out back. The rain will wash away any traces of us.

LEO
Aw, look at you, thinking like a criminal again. Its adorable.
(KARA rolls her eyes)

KARA
Okay, lift on three.

BOTH
One, two, THREE!
(LEO and KARA pick up JONAH and start to carry him outside.)

KARA
(laughs and looks at LEO)
Wow, look at us. It really is just like old times.

LEO
Yep. (Pause) Just like old times.

(BOTH look at each other and freeze)

(The stage goes to a blackout and rain is heard outside. Police sirens start to sound faintly and grow louder and louder when finally the stage falls silent once again)
BLACKOUT
END OF PLAY.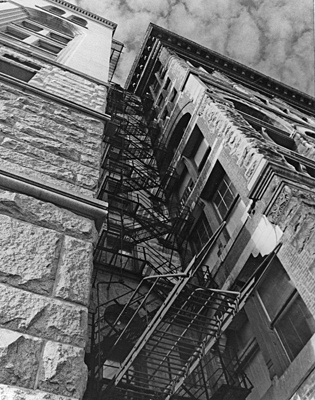 © Eric H., Lafayette, IN