One Of Us Has To Go
February 12, 2019
Puppets scare the living daylights out of you, and having a mother who genuinely believes they are alive makes it even worse. Her whole life is centered around her Puppets, which she creates herself. You wouldn't consider her an artist, but most people would. Puppets are the only thing she has to hold onto, her steadfast rock in a churning sea of splintered relationships, debt, and irrational fears.
You see her in your mind's eye, her delighted face gazing fondly down on rows and rows of her handmade Puppets, all based off the same model, a kind of goblin-elf hybrid. She needs a whole room to hold them all, she has so many. When she moved out of her old house because she couldn't afford it, she made sure to tell her real estate agent to find a new house that had a 'Puppet room.' The agent laughed. So she hired a new one.
Each Puppet has a peculiar garb. Lots of pompoms and tassels and ribbons and bells. When she moves them around, the bells tingle with an ironic sense of impending doom, and the tassels oscillate with sinister zest. She talks to them, and they respond in helium voices. And every now and then, the Puppets will rear their heads back in laughter, emitting a shrill cackle that sounds like spare change and death.
You love her, but you told her it was either you or the Puppets. One of us has to go. She couldn't bear to part with her goblin-elf children, and the next morning, you found a suitcase with your name on it. She had packed up all your belongings, except your favorite sweater. She was going to cut it up to use for a new child.
You didn't ever see her again. And when you said goodbye to her Puppets, a tingle ran down your body like your spine was a piano and someone was playing a concerto, because the Puppets were weeping and they sounded so hauntingly human.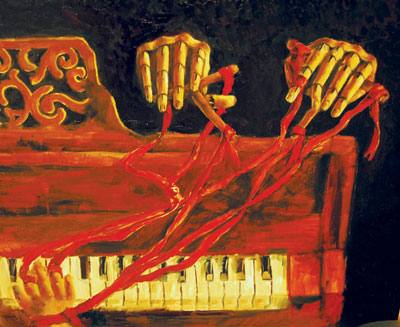 © Bonnie S., Fremont, CA