Ivory
November 12, 2009
The boy wakes up early this morning, his stomach empty but his head full.
At first, the buzz of mosquitos almost sounds like a humming human voice. The footsteps passing by the place where he rests remind him, for a moment, of his grandfather beating the dust out of their door mat. He smiles despite himself, his memory bringing him back a few months to a more innocent time.
But not for long. Soon he remembers the grisly truth.
He has barely slept at all, waking up terrified in between haunting dreams of elephants attacking him. There was hardly any choice for him, he knows, but still he regrets that he killed the elephant a long month ago and sold its tusks for ivory. While he still had the meat, all he could think about was what a mess his life had become, now that his grandfather is dead. But now he has to come to terms with the fact that it has been two months of desperation, and that today he will die if he can't get food.
So, today, he will hunt.
He gathers up all of his belongings – a carved bone spearhead, a scrap of cloth from an old blanket, the lucky spear his grandfather gave him – and leaves the patch of dusty earth on which he has lived for the past few days. There never was money to spare – even if there had been, his stern grandfather would have saved it up – but since he sold the ivory from his last elephant and spent it all on a bit of fruit and his bone spearhead, he has been desperate, even begging near Taj Mahal. The effort it will take him to hunt an elephant will kill him in a few hours if he doesn't have food.
It is life or death.
He reaches the forest near where the elephants dwell. Spear in hand, he spots his prey. It looks so majestic, so pure and innocent, that he regrets having to kill something so beautiful when he would rather watch it from afar like those odd English visitors. But he is reminded of the persistent hunger eating at him and he creeps up to an observation point, hidden by a tree and his knowledge of hiding to hunt elephants. His grandfther might even have smiled proudly if he had seen the boy position himself near a young elephant, spear poised in hand.
The elephant leans in innocently to grab a leaf from the tree with its gentle trunk. It would have been a good chance, but the boy remembers what his grandfather taught him: always watch your prey before hunting it, to know the way it acts. He has been watching this particular elephant for a while, but he wants to use up his sympathy before –
The elephant gingerly leans in for another bite, clearly much more harmless – and hopefully less likely to attack – than the ones he helped his grandfather hunt. It starts to chew.

The boy knows this moment will decide whether he eats or dies.

He lifts his spear, as if in slow motion, and points it toward the elephant's body. The elephant turns to the spear, but it is too late: the spear is a mere millisecond away from piercing the elephant's skin.

At that exact moment, when the boy is just about to let go of the spear out of certainty that he will eat tonight (he rejoices in his head), he feels icy claws on his shoulder, pulling him into the jungle and turning the tables on him: now he is the prey and the Creature the skilled hunter.

At least no one cares enough about him to regret that his screams go unheard as he is pulled deep into the jungle.

And all that is left of him is his lucky spear of ivory.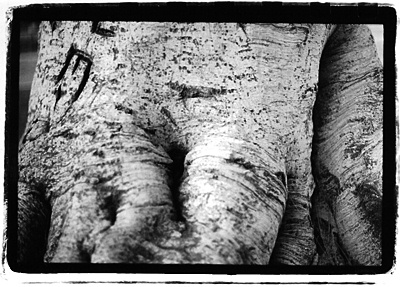 © Rebecca W., W. Hollywood, CA