Silent Witness
February 25, 2010
I don't know how long I've been watching. How long have I been listening to her anguished cries? Every day she tries to escape to somewhere safe. A refuge is what I have invaded. For my invasion, I'm sorry, but for her excuses, I am not.


Her tears pour down and touch the floor of her sanctuary. Her life mistreated to her many mistakes. As she abuses her body and mind, she tries to find herself. Only there is no longer a self in her, instead she lies to herself of her capability. She can't see how smart she is, how pretty she is, and how she's envied, for that she can only blame herself.


I wonder when she will open her eyes to see. When will she open her eyes to their full clarity and not blurred by disgusting drugs? The question, I might always ponder.


I watch her over and over run home. As she takes another pill to kill the pain, and then another as she begins to feel even more worthless. She has too many problems that she needs to hide. Now that she's all alone, she cries for what she's lost.


I can't remember the last time she smiled with her eyes. I do not blame her. Silently, I comfort her as she cries again. Her body is a skeleton, malnourished, and seemingly left to rot slowly in this house. She is unwell and gradually getting worse. I whisper in her ear, "What's wrong, what's wrong now?" I ask even though I know what she wishes to leave behind.


She's losing her mind. Slowly, yet surely, she is going insane. She doesn't ever leave her room, and all she does is cry, drown in ignorance, and hug herself as she tries to forgive. It almost drags me to tears, seeing her this way. My pity is beyond others in her life. She used to be strong and full of life. I plunge my face into my hands as I struggle to control my own sadness.


I watch her now, and try to remember what she looked like before. She must have been beautiful. I can't see it anymore. Her eyes are glazed over with no light. She's not who she used to be. Now her quest to find who she was has transformed her into something she's not. She gets the courage to look in a mirror, and she screams at what she's become. As I close my eyes and listen to her screams, I secretly wonder why he sent me here so late.


I swear I saw it when whatever was holding her together finally broke, and she toppled. She lay again on the floor in a crumpled heap. Her eyes gazing at nothing, and her heart beat quickening. Next to her lay an empty prescription bottle, all the small capsules are gone. Every single one washed down her throat with an eager glass of water.


I struggled to watch her as her body convulsed, jerked, and twisted.
_____I tried to save her. With all my power I did.

I stared as her pulse quickened erratically, and until her heart failed to beat.
_____I threw myself over her trying to help her live, pushing her soul back into her body.


Her seizures stopped and her body was finally motionless. I watched as her spirit floated gently and bright up. It dissappeared.
_____I cried.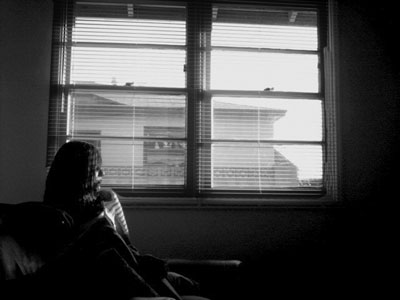 © Roxana R., Tustin, CA