The Ghost of Pine Hill (Bit)
March 14, 2010
"We need to find your mother. I doubt she left," John's eyes fell on our captive as his hand turned the door knob. "Actually, you two go."
"Alone?" I asked. I saw a bunch of creeps running around earlier.
"Yeah, you heard the man. Let's go!" She shoved me out of the door after grabbing sunglasses, a beach bag, and huge hats. Melisa threw on a cover up and I put on a different tee-shirt. We went to a (pirate themed) mini golf course. Nothing. Same thing with the pier, the candy shop, and the dock. We found another pirate ship there but…
"Where is that blasted woman?" Melissa moaned, melodramatically grabbing her head. If we didn't find her soon, would we be safe? My mom could probably send out henchman or something.
I verbalized my thoughts for Melissa. She raced ahead, dragging me along. Wow, pressure got to her.
"Shut up," She hissed as I asked her what she was doing. She discretely pointed to a woman with thick sunglasses and a huge, floppy sun hat.
"Terrible disguise," Melissa muttered.
We followed her at a significant distance. She walked into a hotel, the Hilton. We posed as her kids when the manager looked. Then, we fell behind. We went into the elevator with her. Our costumes worked. Once the door closed, Melissa nudged me. Both of us ripped off our hats and glasses.
My mom went into panic. She crouched down in the corner, screaming for us not to hurt her. "We don't want to hurt you," I said softly. "Just come with us."
"If you don't, then I get to hurt you," Melissa leered. She pulled out her knife from her beach bag. You know what; I don't even want to know how she got that past security at the airport. Twice.
We took the elevator back down and I put my arm around her. It looked friendly enough, but (really) it was so she wouldn't bolt.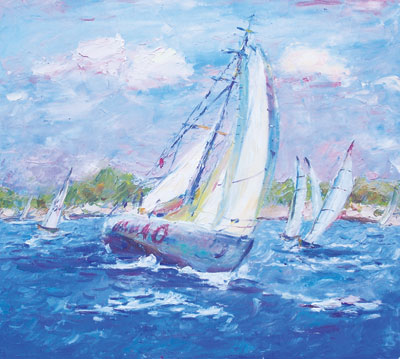 © Xiao H., Naperville, IL