Full of Mystery: Chapter 2 Part 1
March 23, 2010
I woke up to the morning sunshine. It had been a few weeks since Felicia moved in. She has become such a good friend. Justin has been staying with us more than usual and Felicia, I found out, likes him. I hated that part.


I woke up and got out of bed trying not to wake up Justin. I pulled on some red shorts and matching tank top to go on my routine morning walk. I had to admit these walks kept me looking so good. I came back in through the back door seeing Felicia and Justin talking about something unimportant. I got a little suspicious so I stayed back and listened to the conversation.

"Why her, what makes her so important? I mean I know I'm way more perfect for you than her," I heard Felicia say to Justin. Justin shook his head in disagreement. "I would not date you if you were the last girl on earth," he said with a serious face, but I could tell he wanted to laugh. Felicia threw the pillow at him before storming off to the kitchen where I was standing. She walked in and was very surprised that I was in there. She smiled and started walking backwards.

I smiled and walk toward the little girl. "You better stay away from my man," I said before bumping into her on purpose on my way to the living room. I sat on Justin's lap and started watching Spongebob Squarepants with him. I never realized how much I love him until haters started to appear. I wouldn't know what to do without him because I have so much love for him. He was the best thing that ever happened to me and I hope I was the same to him.

I smiled and kissed him gently before hugging him and never letting go. What would I do without him? I thought to myself.

I got up and help his hand heading to my room. I never wanted to leave him alone with my step sister again.

We walked in the room and I felt a feel of relief that we were alone. "Baby, can I ask you something?" He asked. I looked up from what I was doing and said, "Yes boo," I said. He motion for me to sit on the bed next to him. "Baby, as you know I really love you. I have and will always love you no matter what you do or say. You are the best thing that ever happened to me. I have to admit, I have been with a lot of females, but you are different from the others. I wanted you and only you as my wife. It was my life's dream. Baby, if you are not ready to marry me I understand and I will respect that," he said.

We started kissing before we hit the sheets.

~


I woke up excitedly from the previous night. Justin and I finally did the last thing that could make our relationship stronger, making love. It was really amazing, but I did feel guilty about it later. I lay by the bed and prayed for God to forgive me and my sins. I quietly realized it was Sunday and church started soon.

I woke up Justin so we could go together, but he said he was still tired from the night before. I never realized how tiring sex was. I decided to lay back down with him and pray and think a little more. I drifted off to sleep again.

We woke up around evening and started talking about school. I had finished my homework and let Justin copy off of mine. I was happily waiting for him to finish so we could go to the movies. I was dressed in a pink tunic with tight jeans. My pink baby doll shoes glittered as we walked to the movie theaters. It was a kind of chilly night, but not too chilly. We had been walking for a few minutes when we saw Danielle and her crew walking from there.

"Hey dweeb," she said before she gave a shy smile at Justin. "How do you think you are Danielle? We can battle this out any day, any time, and any place," I told her ready for the battle to take place now. She shivered, "Ohh, I am so scared," she said while her friends' laughter echoed behind her smart remark. "Yea, you should be," I said loudly. Justin pulled me away from them hood rats as we continued walking.

We watched the movie silently kissing and hugging up close during some parts. I fed him popcorn and allowed him to eat some of my skittles. We left the movie soon as it was over and headed back to the house. Danielle and her crew were waiting outside. Justin pulled me right through the click without letting me say a word.

We had reached our destination before ten and quickly changed for bed. We kissed before we drifted off to slumber.

~


We woke up the next morning kind of early. Today is Monday, school starts today. I am glad I go to the same college as Justin. I looked at the clock and see that it is only 4:30. I quietly sneak out the bed with him and go into the kitchen. I saw Felicia snooping around in Obedience's room.

I see her go into Obedience's top drawer and pull out her pink and black zebra striped wallet. She pulled out a $20 and quickly sticks it in her pocket. She stakes out the place to see if anyone was watching.

She sees me standing at the door looking directly in her cold, dark eyes. I motion for her to give me the $20, which she places in my hand without incident. She walks out disappointed her plan didn't work. I stick Obedience's money back in her pretty wallet and disappeared to the kitchen to cook breakfast for Justin.

I walk back in my room with a tray of grits, pancakes, sausages, biscuit, and a large glass of orange juice. I knew my baby loved to eat so I cooked him a big meal and when I walked in he was sitting on the bed watching my favorite movie, Love Don't Cost A Thing. I sat his food on his lap and started watching my movie with him.

When he finished we both got dressed and started our walk to Leesville University. We soon saw Felicia waiting at the bottom of the steps and both our facial expressions changed. I had forgotten Felicia was starting college in the new place she now called home. I was hoping that wasn't the case. I didn't want her following us. I grabbed Justin's arm at the bottom of the stairs and quickly pulled him to the door. Sadly to say, Felicia was right behind us. I totally wished we could have ditched her. I walked through the double doors only to see Danielle again. Did Danielle ever leave this school? I hated having her following Justin's and my moves all the time.

"Hey cutie, when are you playing to leave this hood rat for a real chick like me?" she said flirtatiously rubbing his right arm. He grabbed my hand pointing out the huge diamond that laid there. She gasped in shock. "Are you two getting married?" she asked in shock. We smiled and shook our heads yes. She angrily stormed away from us, walking farther by the minute. "Wow," I said.

Danielle stormed into the bathroom hot, accidentally bumping into Felicia. "Hey. I'm Felicia, Amari's new step sister," Felicia said introducing herself to the stranger. "I can't stand your sister. She believes that boy is her everything. Then they are engaged I wish I could do something to take him away from her," she said wiping away those salty tears from her soft cheeks. She was upset and Felicia could tell she liked him too. "We both could fix that problem," Felicia said trying to comfort the crying stranger she knew nothing about as they walked to the same homeroom class.

~


My final class had just ended. I thanked God that Felicia still had one more class. I happily waited for Justin to appear at the double doors. I had been waiting ten minutes before he showed up walking along side Felicia and Danielle. My facial expression turned sour and I stood there amazed at the scene. I could not believe he would do something like this knowing I don't like those girls. I quickly walked up to him and kissed his red cheek from the embarrassment of seeing him with two other girls. He knew what he had done was wrong, but he did it anyway. I so hated this scene. I walked away leaving him alone with his girl pals to do whatever they were trying to get him to do as I walked out the door to my own house.

I heard footsteps behind me and turned to see my little short sister, Obedience, walking up behind me. I wrap my arm around her shoulders as we walked to our peaceful house. "Felicia tried to steal your $20 dollars out of your wallet this morning. I made her put it back though," I said telling her as soon as we got in the door. She looked furious, but she shrugged her shoulders and said, "She is such a witch of a step sister." I had to laugh and she soon laughed to.

I couldn't help, but notice the small purple mark on her neck. "What is that?" I said poking her neck repeatedly, over and over. She giggled and covered her little hickey. "That's my boyfriend's doing," she said very silly. I grabbed her by her arm and lead her to my room.

"What's his name? What is he like? When did you two hook up? I want to know it all sister," I said excitedly hopping up and down on the bed. She laughed and giggled. "His name is Jarrel, 20, light complexion. He is a little shorter than Justin. He has nice long hair because he is mixed, white and black. He is cool, goofy, crazy, and real fun to hang out with. We have been on plenty of dates and been going together for a good five months now. I really like him and I would invite him to dinner, but…," she wasn't able to finish her sentence before I was soon the phone with Aaliyah asking her can we invite company to dinner tonight. She quickly agreed and said she didn't feel very well. I heard my mother throwing up in the toilet that was near her. I did feel sorry for her and just thought she had food poisoning. When she finished she was able to whisper that she had to go. Our mother was so cool, but she was still sick.

We delightedly jumped up and down on the floor, excited to have a visitor. We practically ran down the stairs until we saw Justin, Felicia and Danielle sitting in the living room laughing and talking. It didn't bother me much, but I hope Justin knew he had it coming.



We walked into the kitchen ready to set tablecloths and silverware to help make a good impression. Obedience was on the phone calling Jarrel to see if he could come over. "Hey baby, I was wondering if you would like to have dinner with my family and me?" she said calmly, smiling immediately after he agreed. She got off the phone and grabbed our favorite color tablecloth, the red one with the white and black lining. We set up the table cloth just as Felicia walked in.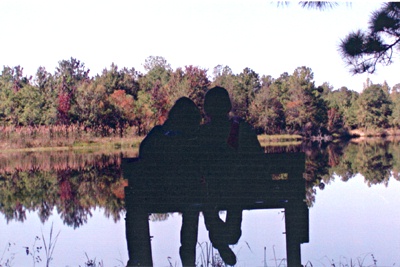 © Heather J., Slidell, LA