The black shadow.
September 21, 2010
There she is, under the apple tree as always , sitting there in the same spot, in her black shirt, black pant, and black shoes, even her hair black as coal, always falling on her shoulder , and across her eyes, I wonder what her eyes look like. There she is sitting and staring at the same photo, I know it is the same because it is thorn into two pieces, she holds them across each other, to complete the photo.
And there I am, sitting at the bench in front of her, staring at her, watching her every step that is, if she makes a step. I've been watching her for about a year, for 365 days, she keep doing the same thing, at 5:00 pm she comes to the park and sits under the tree, I just keep watching. I wonder if she notices that I am watching her, of course she does, but I cant stop watching her. I have to know who she is? Where is she from? Who is her family? Who are her friends? What is her story? But of course if I sit in front of her, and watch she wont come to me and say "hey" and tell m her story, I have to make the first move, but how?
When I finally got the guts to stand up and go to her, a friend of mine comes to the park he sits next to me, and says
"hey becks , how are you?"
I smiled and said "fine George, just fine"
He asked me " what are you doing here?, never knew you were a park girl"
I smiled and said one more time "a park girl, well I guess I am, because I am always here, every day at 5:00 pm never saw you."
He said , "well yeah, it is my first time, came with cousin she is four, and wants to play"
He then looked at me, at my eyes and followed my gaze, and asked me "why are you staring at the apple tree?"
I told him " I am not staring at the apple tree, I am staring at the girl under it, the weird girl in black."
He said "what girl becks, there is no one under that tree"
"what?!" I yelled then I looked at him and told him "can't you see her, she is right in front of me", I used my hand and pointed at her, I could see her, but why couldn't he?
He said "becks, it might be from the sun, his hallucination"
I told him "it is not a hallucination, I can see her, she is staring at a picture look , she is right there"
He said "there is no one"
He then stood up and walked away. Why couldn't he see her, why was it only me. I looked around there was a man standing my the slide waiting for his son, I went towards him and said "hello sir, may I ask you a question?"

he said "of course"

I smiled trying to be polite and asked him "is there someone sitting under the tree"

he looked under the tree and said "nope I see no one"

I went toward the tree and saw her she was there sitting but I was the only one that could see her what does that mean?

I looked at her and asked her "who are you?" she smiled and said "I am someone you know someone you really know"

"who?" I said

she smiled and said "someone just think?"

"help me think" I said

she laughed and disappeared now I couldn't see her where was she who is she I turned around and saw a not on the bench I sit on the note said "flipper twitter"

<flipper twitter>

that was my sister and I secret word to the castle of our imagination but my sister is dead she died ten years ago when she was still five
how can it be?
as I was walking home a picture flew in front of me two pictures I looked at it was a picture of my sister and I in our lined shirts, it was cut in half

*******

my dead sister
........................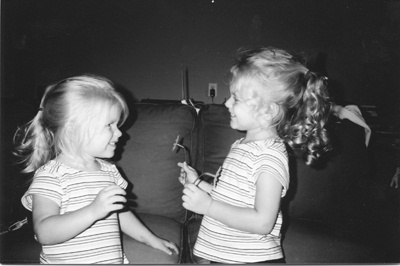 © Elizabeth S., Pompton Plains, NJ