Jelly Stain
September 28, 2010
She didn't notice the bloodstain on the carpet until the dog started sniffing it.

Carla stopped in her tracks. Her hand, holding an onion bagel, froze in midair. How could she have been so careless? What if her husband had seen the stain? She raced into the kitchen, grabbed the Clorox disinfectant and a scrub, and frantically started scrubbing at the blotch of blood.

How long had the stain been there? She tried recalling which day it had happened. Tuesday? No, that was the day she had tracked down Julia's phone number. It must have been Thursday then, since she recalled spending one day before planning the murder. Yes, it was definitely Thursday. So it had been three whole days since that lame excuse of a woman died.

"Alright, I've got my jacket, we can go--" Jim gave her a puzzled look. "You're cleaning now? The movie's about to start."

"You know what a neat freak I am. Just have to get rid of this splotch of jelly," she replied. "By the way, you didn't see the jelly spot, did you?"

"What? Oh, no, no, I didn't see it," He was flicking through some numbers on his phone and barely heard a word she said. What else was new?

"Something wrong, honey?" she cooed, rubbing manically at the dark red spot. It was almost out now.

"No, nothing's wrong. Just waiting for an important phone call. Someone was supposed to call me a few days ago and I still haven't heard from him."


She could always tell when he was lying. He would try to maintain eye contact, but his left eye always gave an involuntary twitch.

"Yeah? Who you waiting for?"

"Just that guy from the third floor." Twitch, twitch. "Bill, you know, from the block party?"

No, she didn't know. He could call Julia whatever name he wanted, but he wouldn't be getting a call from her anytime soon.

"Don't worry, I'm sure he'll call back. If not, probably means he doesn't care for you that much." She swept back her red locks, and threw him a flirtatious look. "Besides, you'll always have me."

The horrid stain was gone now, leaving the carpet its usual pristine white.

She glided over to him, and planted a big kiss on his stubbled cheek. He was all hers now, and no one had better try to change that. No siree. She didn't want to clean up another jelly stain next week.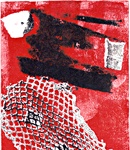 © John K., Wayland, MA