A summers eve in Maine
October 3, 2010
It is the summer of 2009. I am 13 years old. As I was walking through the damp, mossy forests of Maine, the Sun's rays narrowly shining through the thick canopy, I held a small toad in my hand. I came across the pond where I planned to release my little friend, just about half a mile or so from the house. I make my way up to the slowly rotting pier and drop the animal in. For the next five minutes or so, I sit there, taking in the sights, the smells. The violet lilys that slowly wade across the algae topped water, the birch trees swaying with the wind that brought the scent of the approaching autumn.

It was the perfect scene, a lush forest and a small pond. Perfect for a curious 13 year old boy. Just as I lay down on the wood and was about to close my eyes, I heard a faint rustle of leaves and a snap in the distance. I sit straight up, look around, and see nothing. I lay down again, and now hear a splash in the water. Again I look up, and see a ripple. As I stare into the water, I see a blur of gray flash by. When I look up, nothing.

Two minutes pass, and I stop worrying about whatever is wandering around the forest. Its getting dark now, and I start to think about heading back. Just as I get up and hop off the pier, I hear something. It was a howl. A long, deep, melancholy howl. This wasnt the howl I hear every night from the coyotes; no this was much more somber sounding. There was only one explanation: A wolf. Heart racing, mind spinning, my adrenaline kicks in. Knowing that the sound came from about 200 feet away, which isnt much for a creature that can run over 25 miles per hour, I start my sprint. Dashing over rocks, jumping over twigs, I make my way through the black forest. Eventually, I see the flicker of the orange light that hangs from our home. I emerge from the infinite forest, and run to the front porch. I look back into the darkness, and see a pair of yellow eyes gleaming back at me. They vanish into the night. And then, silence.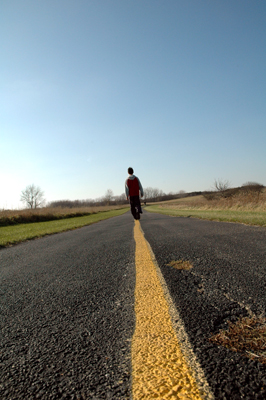 © Seita O., Palatine, IL