Inner Demons
July 26, 2011
My hands were shaking so badly, making it nearly impossible to properly strike a match over the rough surface of the fading chestnut cabinet, worn away where my mother use to cook, and I could almost smell Christmas dinner. I blindly search in the dark, trying to grasp reality and firmly hold on to it like Mother's hands in a busy park for fear of losing myself. My thoughts are blurred and meshed into one combining in my mind, but one thought has left an impressive impression. I need to find a candle.
Blindly sticking my hands into a drawer I vaguely recount humming under my breath, stick your hand in a rock and you won't get it back, it's a Moray, and I try to suppress the shudder that finds its way traveling up my spine. I feel wax and cold metal and clutch it to my chest, fingering it between my forefinger and thumb. I slowly raise the small life line to my nose and take a greedy sniff. It was sweet and gentle, never too strong. It brought me back to summer days in the sun, running through the blasting sprinklers with my young sister by my side, having the neighborhood dogs grumpily gnashing their teeth in the anger of being woken up by a small child's happiness.
I bring my hot match to the wax and it bursts into vibrant colors. Red, orange, and blue. It's food for my eyes and they are feasting. I bring the hot flame to my pale face, feeling the sweet caress of heat washing over me. The flame sways and bends under the constant force of my shallow breath. I feel my chest tighten up and freeze, in my panic I almost the release the tropical candle. I can't let go. I can hear the voices waver around me, slightly crescendoing, waiting for the flame to die down so they could sink their ferocious teeth into , releasing my precious blood onto the pale smooth tiled floor.
Their grins are teeth filled and malicious, their eyes are as cold as ice and as red as blood. Their slim hands are outstretched, trying to grasp me through my light filled prison. They can't have me. I curl up small and into myself holding the flame out. The candle starts to flicker and I start to realize that this tiny candle has only so much warmth to offer my broken and cold body. This candle only has so much light to add to my darkness. I have to stand on my own two feet.
Sometime I will have to face my inner demons.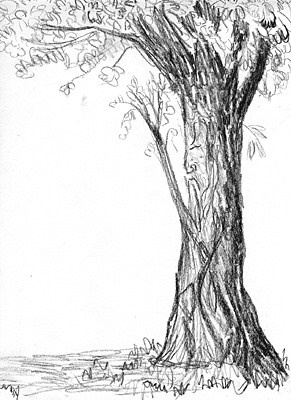 © Anna W., Athens, PA