Grains
February 12, 2012
The trickling sped-up, waking her. She knew what it meant; she'd gotten used to the steady, high pitched sound. It was as familiar as her own heartbeat, her own breath. But the sound had changed. It was urgent; now more rapid and unforgiving than it had ever been before. She glanced over at the source of the sound and sighed, knowing defeat and relief were close.

So close...

In the beginning, the sound had meant life. It held a promise for the future; a guarantee that a tomorrow was inevitable. Having that reassurance had created carelessness. It had made time cheap. There was no value in something that was given freely with no worries of it being taken. Time meant nothing when it should have meant everything.

Years passed. The noise slightly increased. She wasn't worried. She knew it wouldn't end for a while longer. There was time. There was always time... and then there wasn't.

The sound kept getting faster.

She wished she could have learned more; chosen her pass-times more carefully. Helped someone, made a life-long friend, shared a secret, or changed a life, loved for a lifetime... Cared... No, Time was not kind, and now it was too late.

Much too late.

She sat on the edge of her small bed, a chipped glass filled with cloudy water grasped in her shaking, withered hands. Her dark, dirty room was glowing with the moonlight; eerie shadows the sole decoration of her bare, stained walls. The rumpled nightdress she wore was old (almost as old as she), the fine fabric deteriorating and the pattern discolored.

None of this mattered.

The only thing that mattered was the hourglass on her nightstand. The slithering sound that had been her constant and only companion was ending. The last grain of sand was about to fall.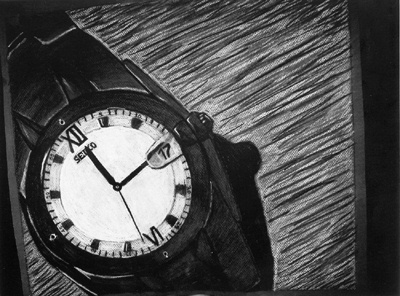 © Rachel U., Danbury, CT