followed by a monster
June 30, 2012
Cameron glanced over her shoulder. She was being followed, she knew it. She could feel someone looking at her. The problem was she couldn't see who it was. It was as if they would disappear when she looked.

She was starting to feel the hair on her neck stand up and her stomach dropped. Cameron reached in her messenger bag; fumbling around for her phone. Looking up her eyes found a store window. She slowed a little to get a better look behind her.

Behind her people were speeding down the side walk, but there was something that caught her eye. An unmoving figure, almost like a shadow, stood in the crowd. Cameron tried to get a better look, but it vanished.

Cameron continued walking; quickening her pace. A hand grabbed her shoulder and spun her around. It was the shadow figure, only she could see a hint of what could be eyes. Were they eyes? She wrenched her arm free and broke into a run.

Swerving in and out of the crowded sidewalk, she glanced over her shoulder. It was still following her, passing though people unnoticed. It was not human, she thought. Cameron groaned, this was the last thing she needed today.

Then she remembered her phone that she was holding. Cameron flipped it open and dialed her mother's number, "Come on pick up! Pick up!"
"You have reached Abigail's phone. I am not available right now, but leave your name and number and I will get back with you as soon as possible." She heard her mother's voicemail play.

"No! Not now!" She screamed. This was not good. She could try her dad's phone, but he was probably too busy with her step brother to care. She started to panic, when she felt the hand over her shoulder again.

This time she didn't fight. She allowed herself to me turned around and looked up into the inhumane eyes. She closed her eyes and allowed her life to be slowly sucked out of her.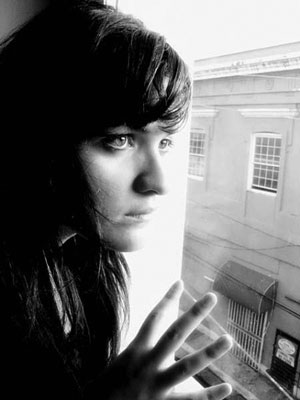 © Eveliz V., Bayamon, Puerto Rico