Schools Out-The Screen Play
July 29, 2012
(NIGHT. We see dark and empty hall ways of a school. We see blood prints on the lockers and a sign on the one of the walls saying "Have a great summer!" with a hint of blood on the page. One of the doors from the hall way is ajar and we see a puddle of blood and the class room in all disseray. The camera peers into the cafeteria, it's deserted. Camera peers down and under the table with her hand over her mouth with fear in her eyes is AMY FISHER. She looks around looking fro the KILLER. Then we hear a knife scrapping the table. AMY flinches from the sound and hides a scream that is begging to be let out.)
KILLER
Oh Amy...
(AMY starts to sob in her hand and winces at her leg which appears to be cut.)
KILLER (Cont.)
Why don't you come out? You can't hide... But you sure can run.I have been chasing you around for an hour! There is no where for you to go! The doors are locked!
(The KILLER pushes one of the tables over, AMY screams with her hand still clasped over her mouth.)
KILLER (Cont.)
No janitor is here to listen to you scream!
(The KILLER pushes another table over and this time, he is one table away from AMY. AMY knows she has to get up and run, but the fear and pain in her leg has kept her frozen.)
KILLER (cont.)
So you might as well give up...
(KILLER puts his hands under the table where AMY is hiding. She see's the blood on his hands and she looks scared.)
KILLER (cont.)
Because if you dont... THEN I'LL RIP YOUR INSIDES OUT!!!
(AMY screams and darts from under the table as the KILLER flips it over. She runs down the main hall as fast as she can, grabbing her leg from the pain. She turns down another hallway then slows down. She looks down the hall way and sees no one. Then hurries down the hall way. But before she makes another turn she sneaks her head past the wall and to get a glance down the hall way. She sees a figure. She bobs her head back quickly and hold her breath. Waiting for the KILLER to leave and hoping he didnt notice her. We get a shot of the KILLER holding the knife in his hand with blood all over the knife and his hands. Finally after a few moments pass. The KILLER walks off. AMY still holds her ground and waits. She then looks again and doesnt see the figure. She turns and walks down the hall way slowly with her gaurd up. She walks out into the main hall way see's the front door. Runs to it. Door is locked. Goes to main office, grabs a chair, few moments of fear. She steadily holds the chair and right before she is about to throw it, we hear sound of foot steps coming at her. She pauses. Then we see the KILLER tackles AMY to the ground.)
KILLER
You want out!?!
(The KILLER grabs AMY and throws her against the door. KILLER walks over and stabs her in the back twice, AMY screams. KILLER picks her up and throws her over the shoulder. We get a shot of AMY screaming blood all over her face. KILLER drags her up the stairs and throws her against the railing. He caresses her face with the knife. Maybe add a pulse?)
AMY
Why...?
(The KILLER stabs AMY in the stomach.)
KILLER
Schools out...
(BLACK OUT. We hear a grunt and then a fading scream and then a hard hit on the ground. Silence. We then get a shot of AMY dead on the ground. OPENING CREDITS.)



One Year Later.
(DAY. Its a sunny day and we see empty hallways with paper on the ground and one paper that say's "HAVE A BEAUTIFUL SUMMER!!!".)
VOICE OVER
Okay guys its ten minutes after school! Why are you still here!?
(We then see a poster on the wall that says "Amy Fisher still missing. Please contact (405) 837-9122 if you have any information. We see Brooke walking down the hall way with her back pack. She is an innocent 16 year old, short, and with brown hair. BROOKE has a book and is listening to her iPod. We see MICHELLE leaning against the locker. She is playing angry birds on her iPhone. She gets angry because she lost.)
BROOKE
(Taking out her iPod.) You know, you have to be smarter than the pigs on that game.
MICHELLE
(To her phone) I will get back to you later... Hey it's been god knows how long since the bell rang, where have you been? Schools out home skillet!
BROOKE
You are white Michelle, remember that.
MICHELLE
Hey, it is none of your bussiness if my personal life wants to be black. But anyways where have you been?
BROOKE
Talking to my teacher about how I failed my test and the only way I do not fail my sophomore year is to retake it tonight and do a better job.
MICHELLE
Are you kidding? You're like his best student how could you fail?
BROOKE
I have no idea, I thought I did really good but I guess I didnt.
MICHELLE
How long will it take? We have to party it up tonight!
BROOKE
Not this again...
MICHELLE
Yes this again! You have to party sometime in your life Brooke. Come on let down the innocent girl act down tonight and let lose!
BROOKE
As fun as that sounds, I have to be focused on this test.
MICHELLE
Okay so stay focused and then afterwards LETS PARTY! Schools out!
BROOKE
You're a dork.
MICHELLE
Isnt that why we are friends?
(JEFF ROWLAND walks up, he is a jock with a sports jacket. BROOKE has always had a crush on him and JEFF has always been interested in BROOKE.)
JEFF
Hey slick what are you still doing here?
( BROOKE and MICHELLE jump)
MICHELLE
Dang it Jeff! Do we need to put a bell on you so we know when you are coming behind us! You're like a damn cat.
BROOKE
Michelle (Laughing)
JEFF
(Laughing) Sorry Michelle. So anyways what are you two still doing here?
BROOKE
Well I'm--
MICHELLE
(Cutting her off) We are being a couple of nerds and I am asking the same question.
BROOKE
(Glares at MICHELLE) Well I am still here because my teacher informed me that I failed so I have to retake the test tonight.
MICHELLE
(Coughing under her breath) Loser.
JEFF
Oh.. that sucks. I was gonna invite you to a party tonight.
BROOKE
I dont know--
MICHELLE
She will be there! We are going right after this failure takes her test!
BROOKE
Michelle or should I say 'Shelly' (MICHELLE glares) I dont know if I can go because of my parents.
MICHELLE
Screw them! Just say you're staying the night at my house.
JEFF
Sounds like a plan to me.
BROOKE
(Looking hopeful) Really?
MICHELLE
YES REALLY! NOW I WILL CALL THEM MYSELF IF I HAVE TO!
BROOKE
Fine..
MICHELLE
See? We will be there. Now call your friend Justin and tell him he's mine when I see him.
JEFF
(Laughing) Okay I will.
MICHELLE
Good because if he's with that Rachel girl then we will have problems. If she falls down a stair case it wasnt me.
JEFF
(Laughing) Okay I will send the message.
MICHELLE
Good. Thanks hot stuff we'll see you there.
JEFF
Should I pick you both up here?
BROOKE
No.
MICHELLE
Yes!
BROOKE
What?

MICHELLE
See you around seven.
JEFF
Awesome! See you then!
(JEFF exits. BROOKE glares at MICHELLE.)
BROOKE
Really?
MICHELLE
What? I got bored s*** happened.
BROOKE
Again really?
MICHELLE
Really.
BROOKE
I swear.
MICHELLE
I told you, you are gonna let lose tonight and I dont care if I have to drag you kicking and screaming.
BROOKE
If you are gonna make a big deal out of thise then I might as well just go quietly.
MICHELLE
That's my girl. Now lets talk about you losing your virginity.
BROOKE
What!?!
(BLACK OUT.)
(MARIE a teenage tall basket ball girl wearing basket ball shorts and a T-Shirt enters the gym. She is on the phone and when the scene starts we hear her talking on the phone. She sets her stuff down and continues talking on the phone.)
MARIE
I will only be a couple of hours and then we will head to the party, calm down. (Laughing)
(RACHEL a girl in her teens also is walking to her car in the school parking lot. She is dressed preppy and has a premiscuous attitude.)
RACHEL
I dont know why you want to spend even more time in that school. You did gradute you know.
MARIE
(Looking in her bag for her iPod.) I know... But this place is my home you know?
RACHEL
(Grabbing her keys from her pocket.) You know there will be more memories when you get to college.
MARIE
(Finding her iPod) True. I had the best times here.
RACHEL
And you will have even more best times when we go to this party.
MARIE
Oh yeah totally, while I get to watch you make out with Justin.
RACHEL
(Getting in her car.) Hey, I can't help it. He's the hottest guy in the school next to Jeff Rowland.
MARIE
Becareful, Michelle has the eye for him.
RACHEL
Yeah well when Justin sees what I am wearing tonight he will be unable to resist this.
MARIE
(Laughing) Yeah sure. Just come pick me up in a couple of hours okay?
RACHEL
Okay will do. Hey how are you planning on getting ready when you've been playing ball?
MARIE
I'll get ready in the locker room.
RACHEL
You are such a basket ball chick.
MARIE
You're damn right.
RACHEL
(Laughing) See you in a couple of hours.
MARIE
See ya.
(MARIE grabs a ball and starts dribbling it. We then hear a door slamming. MARIE turns around scared.)
MARIE
Hello?
(Silence. MARIE waits a couple of moments and the continues on with her game.)

(LIBRARY. DAY. BROOKE is in the aisles looking for some books. MICHELLE pops out of a corner.)
MICHELLE
This place is sooooo boring.
BROOKE
You should try opening a book. That is always fun.
MICHELLE
Ha ha you're funny. What are you looking for anyways.
BROOKE
The right encyclopedia.
MICHELLE
How long will this take?
BROOKE
You will make it to the party calm down.
MICHELLE
It's hard to be calm when I know Justin will be mine.
BROOKE
You and Justin I swear.
MICHELLE
He is finnneee.
BROOKE
(Looking up.) Oh hey Michael.
(MICHAEL a nerdy guy looks up from on of the other aisles.)
MICHAEL
Oh hi Brooke.
MICHELLE
(Monotone.) Hey Michael.
BROOKE
What are you doing here?
MICHELLE
Why are you asking that? He practically lives here.
BROOKE
Michelle..
MICHAEL
(Laughing) It's true. I do live here. The librarian said I could take some books home for the summer. She know's I like to read. But I practically read every book here.
MICHELLE
What a shocker.
BROOKE
Well I find that very cool. You are very smart.
MICHAEL
(Blushing.) Thanks.
BROOKE
How's your sister doing?
MICHAEL
Oh she's doing great!
MICHELLE
Well since you are so cool, are you going to the party tonight?
MICHAEL
(Dissapointed) Actually no. No one invited me. But I think my sister is going.
BROOKE
Michael I will invite you. Would you like to come to tonights party?
MICHAEL
Really?
MICHELLE
What?
BROOKE
Of course! I'll text you the address.
MICHAEL
I dont think I will know anyone there though...
BROOKE
Then you come see me and hang with me.
MICHAEL
Really? Thanks Brooke.
BROOKE
Anytime. I'll see you there.
MICHAEL
Okay see you there.
(MICHAEL goes to the librarian she checks out his books.)
MICHELLE
Are you kidding me?
BROOKE
Please for the love God grow a nice bone in your body.
MICHELLE
I do! But Michael Sullivan. Gag.
BROOKE
Come on you know he hasnt had an easy high school career. I'm just giving him something to remember.
MICHELLE
Oh I bet you will.
BROOKE
Oh God come on!
(MICHAEL takes the books from the librarian.)
LIBRARIAN
Have a great summer.
MICHAEL
Thanks!
(The LIBRARIAN stares after MICHAEL with a look of saddness in her eyes.)

(HALLWAY. DAY. MICHAEL exits Library and starts walking down the hall way. He hears a kinfe scrapping against the hall. MICHAEL stops and turns around. He sees nothing. He continues to walk down the hall way. The sound continues.)
MICHAEL
Anyone there? Brooke?
(Silence. MICHAELS continues to walk down the hall way. When he turns and walks down another hall way. A door down the hall is ajar. He walks by the door.)
VOICE
(Whisper) Michael...
MICHAEL
(Stopping dead in his tracks.) Hello? (No response.) Anyone in there? (He walks closer to the door.)
(MICHAEL pears into the room, it's dark. All of a sudden a knife jabs into MICHAEL's abdomen. He yelps, slowly blood trickles from his mouth. Then MICHAEL is pulled into the room and the door closes. We hear screaming and stabbing. Blood comes from under the door. We see a bloody hand sending a message on MICHAEL's phone. The text message is being sent to "Sis" AKA TAYLOR. TAYLOR is MICHAEL's older sister she is a nice girl who is a teenager.)
(BATHROOM. DAY. TAYLOR is curling her hair and putting on her make-up. She gets a message on her phone. TAYLOR picks it up and reads it.
Hey sis, can you come pick me up from the school? Car broke down.)
TAYLOR
Great. Just great.
(TAYLOR types a message. Fine, but you better be ready. I'm going to a party. Her phone rings again. A message from the KILLER. Okay thanks. TAYLOR puts down her phone and continues to do her hair and make-up.)

(LIBRARY. NIGHT. BROOKE and MICHELLE are sitting at a table MICHELLE appears bored, she has her hand to her mouth thinking of how to screw with BROOKE. MICHELLE throws her hand on BROOKE's book which is trying to read, BROOKE gives a sigh but tries to ignore MICHELLE. After a couple of moments MICHELLE throws her entire body all over BROOKE.)
BROOKE
Michelle for the love Jesus himself, just go to the party and I will meet you there.
MICHELLE
But I am bored and you know I dont leave a friend behind.
BROOKE
Can't you just leave and I can call you when I'm done?
MICHELLE
See? You're grouchy and I just don't like it. You need to lose the 'V-Card' so you can be awesome like me.
BROOKE
It's kind of hard when someone is bugging me the whole time!
(The LIBRARIAN looks up from her work and glares at them. BROOKE stares with innocence.)
MICHELLE
I'm just joking. But I strongly agree to you losing it and getting it over with. But if you wanna stay innocent then go right ahead you can just dance and flirt with people I guess.
BROOKE
Isn't that what you do at parties?
MICHELLE
Ummm hell to the no, I sleep with everyone.
BROOKE
Looks like someone is going to hell.
(The LIBRARIAN continues to work. Then Principle AUTRY stroles in the library, she is an old woman with a stone cold face with little emotion in her eyes. MICHELLE and BROOKE look up from what they are doing, they make eye contact with her and they both smile. AUTRY just glares and continues to walk up to the LIBRARIAN. The both of them start talking but you cant understand what they are saying.)
MICHELLE
I can't wait till the day I do not have to see that old bitter woman.
BROOKE
She gives me the creeps.
MICHELLE
She gives blind people the creeps.
(The conversation heats up and voices are raised. The LIBRARIAN shakes her head repeatedly and the conversation becomes more heated.)
MICHELLE
No way... teacher fight.
BROOKE
You would like that wouldnt you?
MICHELLE
(Pulling her phone out starting to record) Hell yeah, I am bored.
(AUTRY grabs the LIBRARIANS wrist. They both at the same time look at MICHELLE and BROOKE. Then we get a shot of BROOKE and MICHELLE, BROOKE looks scared and MICHELLE has a smile on her face looking at the phone, then she looks up and her smile fades. she hides her phone. We get a close up shot of AUTRY's face, she purses her lips like she just thought of something she needs to fix. AUTRY turns to the LIBRARIAN and pushes a stack of papers to the ground. Then taps the LIBRARIAN with her hand and smiles.)
AUTRY
Think about it. (AUTRY exits.)
MICHELLE
I think I just crapped my pants.
BROOKE
You're telling me.
(GYM. NIGHT. MARIE dribbles the ball and makes another shot, she dunks the ball and we get a close up of her face and she has a smile. She thens looks around at the gym and starts to relive the past and saddness comes across her face. Her phone starts to ring and she walks over to her bag. She doesnt check the number just answers it.)
MARIE
Hello?
(There is silence on the phone.)
MARIE
Rachel?
(We hear breathing on the phone.)
MARIE
Okay this stupid, who is this?
(The phone hangs up. MARIE hangs up and starts to walk to the locker room. She enters in the hall way which leads to the locker room, we hear a knife scrapping against the wall. MARIE stops and turns around.)
MARIE
Is someone there?
(The noise stops. She pauses and turns around and continues to walk. The noise happens again, she throws down her bags in anger.)
MARIE
Okay, that's enough! Who is there? (She walks down the hall way where she hears the noise.) You've had your fun now--
(She stops. There is no one in the hall way. She turns and runs to her bags and enters the locker room and shuts the door and puts her back to it. She sighs. She goes to her bags and sets them on the bench and starts to take out her stuff. Her phone rings again. She sighs and answers it with hesitation.)
MARIE
Hello?
KILLER
(Whisper) Hey... Marie..
MARIE
Who is this?
KILLER
You dont know me... but I know you...
MARIE
Obviously I don't know you so quit wasting my time, who is this?
KILLER
You'll know soon.
MARIE
And how is that?
KILLER
When my knife enters you...
(MARIE gives a snort of disgust and hangs up. She then dials RACHEL. RACHEL is sitting in her car listening to her radio, her phone buzzes and she answers.)
RACHEL
Hey are you ready or not? Party has started already.
MARIE
Hey are you pulling one of your pranks on me?
RACHEL
Why would I pull a prank on you? Of all days?
MARIE
Because it's you Rachel and it isnt funny. Tell Mike or Justin to quit.
RACHEL
Marie, I am telling you b**** to b**** I am not pulling a prank on you. I think I would own up to it.
MARIE
True.
RACHEL
What happened?
MARIE
Well someone was following me making noises and someone just called threatning me.
RACHEL
It's probably Justin or Mike playing a trick on you because the party already started and we aren't there because someone is taking their sweet time.
MARIE
I know, I know I'm on my way out.
RACHEL
Okay hurry before I pull a prank on you--
(RACHEL's car moves side to side.)
RACHEL
What the hell?
MARIE
What?
RACHEL
(Looking at the end of her she see's a figure.) Damn it I was right. It's Mike. He's screwing with my car.
MARIE
I knew it. Tell him he has it coming when I get out there.
RACHEL
Oh I will. (She peaks her head out of the car.) Mike! I swear, touch my car again and I'll teach you how it feels to be beat up by a chick. Marie is already pissed at you.
MARIE
So it's him.
RACHEL
Yeah it's him. What are you gonna do? Just stand there?
MARIE
What's he doing?
RACHEL
He's just standing--
(A knife goes through RACHELs throat. Blood starts gushing as she drops her phone and grabs her throat. She looks up at the killer.)
MARIE
Rachel?
(The KILLER grabs RACHEL and throws her out of the car onto the ground where he stabs her over and over. MARIE hears the screaming.)
MARIE
Rachel? Really? Quit screwing around. You and Mike are funny. I'll meet you there when I get finished.
(Time passes. LOCKER ROOM. NIGHT. MARIE finishes the touches to her outfit. Puts on some perfume, and does the finishing touches to her make up. Her phone starts to buzz. She looks at her phone and notices it's from MICHAEL.)
MARIE
Da hell? Hello?
(No answer.)
MARIE (cont.)
Michael? What do you want?
(No answer.)
MARIE (cont.)
Michael, what do you want?
KILLER
To feel my knife inside you...
MARIE
Excuse me? Michael! What did you just say to me?
KILLER
Scary night aint it? With your friends being dead and all...
MARIE
Michael this is really sick joke. Why are you doing this?
KILLER
Because this isnt Michael.
MARIE
Then who is this? And why do you have his phone?
KILLER
You will find out soon...
MARIE
And why do you say that?
KILLER
Because I'm in here... with you..
MARIE
(Half laughing) Well that's a lie.
KILLER
Why do you say that?
MARIE
Because I have been in here for an hour and havent heard a thing. Believe no one is in here. And how do you know where I am?
KILLER
You're in the locker room, getting ready. I love the perfume you are wearing.
MARIE
Stop it! That's not funny.
KILLER
This isnt a comedy, this is real life and you're about to expierence it.
MARIE
Please tell me this joke.
KILLER
Nope.
MARIE
Then where are you?
KILLER
Around.
(MARIE starts looking around the locker room and it's empty.)
MARIE
I dont see you.
KILLER
You will soon.
(She opens the bathroom door. Room is empty.)
MARIE
I'm starting to catch your bluff.
(Goes to the shower and pulls back the curtain. No one is there.)
MARIE
I should've known this was a stupid joke.
(She grabs the rest of her stuff and starts to head to the door.)
MARIE
I hope you had your stupid fun Michael!
(A knife comes from behind and stabs her in the back. MARIE flies into the door smacking her head. A hand grabs her shoulder and the KILLER throws her on her back. The KILLER gets on top of her and stabs her in the chest. MARIE yelps. The KILLER stabs her again in the chest. MARIE throws her knee into his groin. The KILLER falls over in pain. MARIE barley gets up and heads to the door, she opens the door. Another stab in the back, MARIE throws her elbow back and hits him in the face. KILLER flys back. MARIE starts screaming and running down the hall way. The KILLER gets up and chases after her. KILLER covers her mouth and stabs her in the stomach. MARIE falls to the ground. She grabs her wound in her stomach. She looks up and see's the knife. The knife comes down. Screen goes black.)
(LIBRARY. NIGHT. BROOKE is still working on her test, MICHELLE is messing with a pencil, she then takes twp paper airplanes and crashes them together making crashing noises and death sounds. BROOKE stops with her test and looks at MICHELLE.)
BROOKE
Really?
MICHELLE
You know I am bored, dont act surprised.
BROOKE
Well I am almost done so your misery should be over soon.
MICHELLE
Okay I'll be quiet until you're done..
BROOKE
Thank you.
MICHELLE
(Waits a couple of moments and cant stand the silence.) So you're going to lose it tonight?
BROOKE
Not this again.
MICHELLE
What? Come on you just need to lose it to Jeff.
BROOKE
(insecurely) I want to lose my virginity at the right moment.
MICHELLE
You might as well get it over with, and it might as well be Jeff.
BROOKE
Maybe for you, but not for me. And Jeff is special you know?
MICHELLE
Jeff is Jeff, he is hot. (Pause) Fine. You can lose it when you're ready and I will be the cheerleader with the pom pom's ready to announce it to the world.
BROOKE
I'm not saying that I will be a virgin forever, who knows when it will happen.
MICHELLE
I know when it will happen. Tonight!
BROOKE
You wish.
MICHELLE
I unfortunately do. Kind of like how I wish for you to be done already. I am freezing in here.
BROOKE
Go get your blanket from your car.
MICHELLE
But that means I have to walk.
BROOKE
Well it's better than being stuck in a library, you might have library fever and will start killing everyone in here.
MICHELLE
Well that thought has crossed my mind a couple of times. I really dont like walking in dark places after what happened to Amy Fisher.
BROOKE
Amy Fisher?
MICHELLE
Oh come on, I know you heard about this.
BROOKE
I think I know what you are talking about. Is it the girl that went missing last summer?
MICHELLE
That's the one. Rumour has it she was kidnapped from this school.
BROOKE
Haha what ever, she probably ran off with her boyfriend because you know he's missing too.
MICHELLE
I know that. But dont you find it strange that two teenagers who would have no reason to runaway would just end up missing, never to be seen again?
BROOKE
People do crazy unexpected things all the time.
MICHELLE
I highly doubt it. They have no reason to leave here.
BROOKE
Well to be honest you didnt know them very well.
MICHELLE
But I knew their friends, and from what they told me they were happy here. They were getting married after graduation and settling down here with both their families.
BROOKE
Maybe their family didnt agree with their marriage, so they ran off.
MICHELLE
See? You're just like the cops always coming up with this stupid bull s***. Sometimes everything isnt the obvious. If you take the obvious and flip it you will get the truth.
BROOKE
Okay so what is the obvious that could be flipped.
MICHELLE
Okay, so two teenagers who were last seen at this school go missing, not a sight since, not even a message to mommy and daddy telling them everything is okay. What if they were murdered here? What if someone is covering it up?
BROOKE
How would they do that detective?
MICHELLE
Come on! It's perfect! Two teens who are bound to get married go missing, so everyone assumes they left town to elope! They already gradutaed and adults, no one suspects a thing.
BROOKE
I dont know maybe
MICHELLE
Maybe. It could be a good movie if you think about it.
BROOKE
Haha totally, I would play Amy and you could just a put a wig and you could be Tod.
MICHELLE
Yes! And we could elope! But the twist in the movie is we became gangsters and I keep asking you to make me a sandwhich!
BROOKE
Yes! Love it. You should contact Paramount Pictures and pitch this idea to them.
MICHELLE
Then we could be billionares and be the next damn J.K. Rowling.
BROOKE
Then we would never have to work again.
MICHELLE
Yesssss. (Slight pause) So you about done yet?
BROOKE
Almost. Go get your blanket.
MICHELLE
Fine looks like I will.
BROOKE
Don't pull a Amy Fisher!
MICHELLE
Shut up.
(MICHELLE exits.)
(HALL WAY. NIGHT. MICHELLE walks down the staircase. We hear a scrapping on the wall. MICHELLE stops.)
MICHELLE
Brooke?
(No response. MICHELLE continues walking down the stairwell. She EXITS the building and walks into the parking lot to her car. She makes it to her car looking for her keys. She starts to get frustrated because she cant find the keys.)
MICHELLE
I should just keep this damn thing unlocked. Who the hell would steal a SUV in Oklahoma?
(She finally finds her keys. Right before she puts her key in, she notices her car door is slightly open. She opens the door, hear's a noise in the distance, she rushes in the car and slames the door. Puts her head on the back of the seat and takes a long breath.)
MICHELLE
Michelle, calm down. They just ran away to Mexico and eloped. You're fine. No one is going to kill or kidnap you.
(She takes another breath. Their is a movment in the back of the car. MICHELLE's eyes widen. She sucks in a breath.)
KILLER
(Whisper) Schools out...
(A knife goes through the seat and pierces MICHELLE in the stomach. MICHELLE yelps and loooks down and see's the knife. The knife goes back out of her. She grabs her wound, blood starts to trickle out of her mouth. The knife goes through again, MICHELLE screams. The knife goes out again. MICHELLE opens the car door, the KILLER leaps over the seat and stabs her in the back. MICHELLE falls out of the car. She tries to get up but falls down to the ground. We see the car door open and a foot steps out of the car, then we see a knife glisting with blood.)
MICHELLE
Help! Brooke, oh my god someone help!
(MICHELLE manages to get up and starts to semi run to the school. She grabs her stomach in pain and falls to the ground.)
MICHELLE (cont.)
Help! Someone!
(MICHELLE turns around. The KILLER stands a couple of feet from her.)
MICHELLE (cont.)
Please! Leave me alone! Please!
(The KILLER takes another step to her.)
MICHELLE (Cont.)
No! No! Stop please! Help! Someone! Help!
(The KILLER starts running at her.)
MICHELLE (Cont.)
No! Please!
(The KILLER slits her throat. MICHELLE falls on her back grasping her throat. The KILLER stands over her body, looking at her twisting the head slightly to enjoy what he did. The KILLER takes the knife and starts stabbing her body over and over.)

(LIBRARY. NIGHT. BROOKE is working hard on her test, she thinks she heard something. She looks up and see's the librarian working hard at her desk. BROOKE gets up and walks to the window of the library and looks out the window. She looks out the window and see's nothing, she see's MICHELLE's SUV. BROOKE purses her lips and walks back to her desk to finish her test.)
(PARKING LOT. NIGHT. We see TAYLOR's car pull up. Lights turn out and camera pans over to TAYLOR turning off her car. She grabs her phone and starts to dial MICHAEL. No answer. She gets frustrated and calls again. We then see MICHAEL's dead body with his phone next to him, his phone lights up and it's TAYLOR calling. We then see TAYLOR getting more frustrated, and we see MICHAEL's phone as it stops ringing.)
TAYLOR
Damn it Michael... I am already late and of course you just have to pull this s***... Don't make me go in there and get your ass.
(TAYLOR waits a couple of moments.)
TAYLOR
Screw it.
(She gets out of the car grabs her purse and slams the car door. We get a shot of her shoes as she walks to the school doors.
HALLWAY. TAYLOR enters the school and walks fast pace.)
TAYLOR
Michael!? Where are you? I am already late!
(She gets her phone and dials him again, keeps walking, no answer and goes to voicemail.)
TAYLOR
Michael you have five minutes, I am going to the bathroom. When I get out, you better be here or I am leaving you and you can call mom to come pick you up.
(During this voicemail, the KILLER stands behind TAYLOR at the end of the hall way. TAYLOR hangs up and puts her phone in her purse. She stops. Feels a presence behind her and looks back at the end of the hallway. She see's nothing, no one is there. TAYLOR sighs and puts her purse over her shoulder and walks into the bathroom and steps into one of the stalls and locks it. She sits down on the toilet and does her bussiness. We get a shot of the KILLER's boots as he makes his way to the bathroom. We hear flushing and we then see Taylor getting up and about to leave when we hear a scrapping against the wall. TAYLOR freezes.)
TAYLOR
Hello?
(No answer. The scrapping continues.)
TAYLOR (Cont.)
Michael! Get out of here! This is a girls's bathroom. I know you want to be a girl and all but it's not funny, now get out.
(There is still no answer. And a slight pause.)
TAYLOR
Michael?
(TAYLOR slowly opens the stall door, and peeps out. There is a slight pause. Then the KILLER pushes the door toward TAYLOR which hits her in the face. TAYLOR flys back and hits the toilet with her head, her purse falls and all the condiments in it come out, hair spray, make-up ect., cell phone, and other micelanious things. The KILLER kneels at TAYLOR's body, we see the knife in midair and its gets thrown into TAYLOR's chest. TAYLOR screams and punches the KILLER in the face. The KILLER is quick and stabs her in the chest again as TAYLOR trys to fight him off. TAYLOR's hands are searching for anything to get him off, she finds the hair spray bottle and slames it into the KILLERs face. The KILLER falls onto his back in the stall, TAYLOR gets up fast and grabs her cell phone but the KILLER swipes his knife but TAYLOR is quick and she grabs her phone and starts to run down the hall screaming.
LIBRARY. BROOKE hears a slight noise and looks up from her work. The LIBRARIAN stands frozen starring hard at BROOKE. BROOKE feels awkward and goes back to what she is doing to break the stare.
HALLWAY. TAYLOR is going door to door trying to find one that is unlocked. Hurting from being stabbed, she goes to one of the doors and sits down and hides behind the wall from the door to the hallway (<--- You know how South Moore is made, kind of hard to explain.). She is breathing hard and she covers her mouth. She immediatley dials MICHAEL again.)
TAYLOR
Please pick up... Please be alright. Oh god..
(We hear the phone ringing in the hallway. TAYLOR looks down the hallway where she thinks she heard it. She looks back at the bathroom and see's no one. She gets up and walks toward the ringing. The ringing stops and she dials again. The ringing continues and walks toward the janitors room, she opens the door and we can see MICHAEL's dead body. TAYLOR starts screaming at the top of her lungs. The KILLER comes up behind TAYLOR and picks her up, TAYLOR screams even louder and her throat is slit. Blood spills over the walls and we see a shot of TAYLOR's dead body hit the ground.)
(LIBRARY. BROOKE hear's the scream, her immediate thought is "Michelle" she gets up and starts to walk to the front door of the library, MS. RICHARDS (<-- Reread my story the librarians name is Ms. Richards, totally forgot.) steps in front of her.)
MS. RICHARDS
Wait! Please hold on before you go out there.
BROOKE
That was a scream, and I think it was my friend Michelle. I'm going.
MS. RICHARDS
No!
BROOKE
(Who is surprised by her reaction.) Why? She might be in trouble!
MS. RICHARDS
You dont know--we dont know what is done there. Let me go down there, you stay put here.
BROOKE
But I--
MS. RICHARDS
No. Stay here.
(MS. RICHARDS exits. BROOKE looks around afraid for MICHELLE. She goes to the table and grabs her phone and looks at the time.)
BROOKE
Damn Michelle you've been gone for more than thirty minutes...
(She dials MICHELLE's number and trys calling but there is no answer. BROOKE walks back to the window and looks for MICHELLE's car, she looks closer and see's the door is slightly open. Her mouth opens with fear, she then looks around the parking lot and she can see aa dark puddle that looks like blood. She covers her mouth in fear and turns and runs for the door, she has her hand on the door knob when we hear a loud scream. BROOKE lets go of the door and steps back. We see MS. RICHARDS running from one of the hallways to the Library door. MS. RICHARDS is covered in blood. BROOKE takes a couple of steps back in fear. We then see the KILLER running behind MS.RICHARDS. BROOKE looks with wide eyes for she is paraylized with fear. MS. RICHARDS trips and falls right by the doors. BROOKE trys running to the door but stops when she see's the KILLER has made it to her first. He starts stabbing MS. RICHARDS. BROOKE is so scared by this she keeps backing up and trips over a chair whichs knocks the lamp over and breaks it. The KILLER stops and notices this. BROOKE falls down and we see her phone skid across the floor. BROOKE gets up quickly seeing that MS. RICHARDS is getting murdered. She covers her mouth and she wants to scream, she runs and hops over the desk in the library and hides under it, still with her hand clenched over her mouth. The screaming dies down. We get a shot of the KILLER's hand clenching the door knob as he opens it. We see his shoes as he walks in, he pauses, continues to walk. )
KILLER
Oh Brooke...
BROOKE
(BROOKE's eyes widen.) Oh my god..
KILLER
I know you are in here, so why don't you come out, and make this so much easier.
(The KILLER looks around the library trying to find BROOKE. He peers over aisles seeing if she is hiding.)
KILLER (Cont)
(Boasting.) Your friend Michele was easy.
(BROOKE makes a sobbing noise that even her hand couldn't cover it. The KILLER hears the noise and his head cocks to it.)
KILLER
Ahhh...
(BROOKE hears nothing just silence. She takes her hands off her mouth and she stays completly still wanting to hear any noise, but there is none. Some moments pass and still nothing. Finally we some hands grabbing at BROOKE. She screams and trys to fight them off but they get a hold of her. Finally BROOKE is pulled off by the ground and she is thrown over the desk. BROOKE lands on her back and she tries to get up but we see the KILLER running at her and he kicks her in the face. BROOKE gets thrown back down onto her back. The KILLER steps over her and grabs her by the neck and he starts beating her head into the ground, BROOKE screams and fights back by hitting her hands any where and every where. Finally she takes her finger nails and digs them into his face. The KILLER steps back grabbing his face. BROOKE takes her foot and kicks him in the stomach as hard she can. The KILLER stumbles back into the desk grabbing his stomach. BROOKE gets up and runs to the door and steps over MS. RICHARDS and slips on the blood. She holds up her hands and they are covered in her blood, she screams and gets up and runs for the stairs. When she makes it to the very top of the stairs the KILLER grabs BROOKE's hair.)
KILLER
(---> debatable line, this was used in the series.) YOU FUCKING B****!
(The KILLER threw BROOKE down the stair case, she tumbles down and smacks her head on the floor. BROOKE looks up from her fall and looks around, the KILLER is gone.)
BROOKE
S***.. (<---- Again debatable.)
(BROOKE gets up and she limps grabbing at her thigh. She makes it all the way down the stairs still limping. She stops and looks around and see's no one. She then limps to the front door. When she gets there she see's MICHELLE's dead body. BROOKE stops and pauses she can't believe her eyes. She then screams and runs to the door and tries to open it but it's locked. She then falls down to the ground crying and she slams her hands on the door in anger and despair. We hear foot steps running at her and her head is smacked into the door, blood starts to run down her head. She looks up and she see's the KILLER, her eyes roll to the back of her head and she passes out. BLACK OUT.)
(OFFICE. NIGHT. The scene starts out black, a light turns on and it shows BROOKE. She is tied to a chair, she has cuts all over her face with dry blood stuck to her face. BROOKE starts to wake up and her vision is very hazy. We can see a woman sitting at a desk but we as the audience cannot make out the figure. Once the haziness has ended, we see that MS. AUTRY is sitting at the desk. She is sitting professionally with her hands in her lap and her hair in a bun. AUTRY is a very cold woman, she has limited facial expressions, she has a very cold expressions, and she has natural meaness to her. BROOKE takes a second to recongize her, and when she does her eyes widen and she feels hopeful.)
BROOKE
Ms. Autry! Thank god! You have to help me! Some man killed the librarian, and my friend... (She starts to sob.) Michelle, she is out in the front.. (She takes a second to repeat the truth she doesnt want to hear herself.) Dead...
AUTRY
I know your situation Brooke, and lets just say it's not a good one.
BROOKE
Then why are you just sitting there!? Help me for Christ sake! Please! Just get me out of here!
(BROOKE starts to scream and sob. AUTRY gets up from her desk and stands in front of BROOKE and slaps her across the face. AUTRY gets close to BROOKE's face and hold it with her cold hand.)
AUTRY
It's just not that simple Brooke.
BROOKE
(Taking a second for the pain to fade.) Why? What's wrong with you? Why are you doing this?
AUTRY
So many questions you possess! (She gives a cold laugh.) That's what they all ask, (Mimicking) why are you doing this? Why? Why? WHY!? (BROOKE flinches.) But since I am such a good person, I will let you know why you are going to die tonight. (BROOKE holds her head down and starts to cry over the thought but stops, not wanting to get hit again.)
BROOKE
What have I done for you to end my life?
AUTRY
Oh Brooke, you have nothing wrong! That's the beauty of it! You see, a couple of the teachers and myself have this thing going, and believe me its a wondeful and exciting thing we have year when schools out.
BROOKE
What?
AUTRY
I thought you would never ask.
(NOTE: During this scene, AUTRY can walk willing around BROOKE, in front or behind her, she will not be standing still at any part of this scene.)
AUTRY (Cont)
You see it's almost like hunting. Oh sure you can get a license and go hunting in the winter where it's bitter cold and try to shoot a worthless animal. Or you can be like us, who kill students for the thrill, the taste of the blood, the heart beat fading in your palms, and get the best feeling in the world. We take turns-the teacher of my choice and myself of course-each summer and hunt the students like dogs and kill everyone of them with joy. We kill them clean and simple. It gives you a rush you have never felt before! After spending ten months of dealing with kids, its like you can take that anger out on you.
BROOKE
Why me..? Why Michelle..? Why do we deserve such torture?
AUTRY
Oh honey, dont take this personal, but Michelle was just a little slut and she had it coming. Honestly what worth was she to life? None. Zip. Zero. But you, unfortunately were just picked randomly. Luck wasn't on your side. Same with Amy Fisher and Tod Hamilton. How do you think we got you here? I made a deal with your teacher to give you a bad grade on your test because I know you would stay to get a better grade. And guess what? I was right! You stayed just like I knew you would, and to even sweeten the deal you had Michelle with you also! She wasn't on the list but I was glad to slit her throat myself and watch her life end by my hand.
BROOKE
How could you kill anyone? You're a woman, not strong enough, too thin to hurt or kill anyone...
AUTRY
(Gets close to BROOKE's ear.) You better watch yourself... I manage to kill who I want with out any physical advantage thank you. Just look at the damage I did Michelle, did I do a great job or what?
BROOKE
Then who attacked me? And the Ms. Richardson?
AUTRY
(Laughing) I never thought you would ask! It's one of your teachers, and man was he happy that you were on his list. (BROOKE's eyes widen with shock.)
BROOKE
Who..?
AUTRY
He is such an old friend of mine. Him and I go way back. We started this together wayyyy back before everyone else got in on it.(Walking to the door.) Hey Baker! You there?
(BROOKE gasps and moves her hands around and feels a jolt of pain in her hand because of piece of glass must of broken off into her hand. She grits her teeth and pulls it out.
BROOKE
(Harshly.) You're lying..
AUTRY
Am I?
(The KILLER enters, he pulls down his hoodie and we see it's MR. BAKER.)
AUTRY (Cont.)
See!? I'm not lying! Isn't it just grand? Where should we start Baker? (AUTRY makes her way back to the desk and pulls out a gun.) Should we make it quick or just make it slow and painful?
BAKER
Make it quick. She has been through enough.
AUTRY
(AUTRY's face hardens and she makes her way to BAKER.) What is up with you? Are you losing your touch or something? (BROOKE has half way made it through the rope with the piece of glass.)
BAKE
Listen, I am tired and we have a long night of cleaning up, lets just get this over with.
(BROOKE finished cutting through the rope. She starts to get up. BAKER looks over AUTRY's shoulder and see's her.)
BAKER
(Bellowing.) Hey!
(AUTRY turns around and points the gun at BROOKE. BROOKE notices and starts running towards the desk, AUTRY shoots and the bullet grazes BROOKE's arm, BROOKE dives and hits the desk and tumbles over it onto the other side. BAKER comes from the other side and grabs her by the hair and pulls up, BROOKE kicks and screams, AUTRY comes over also and kicks her in the stomach. BAKER pulls BROOKE up and carry's her to the hallway kicking and screaming and AUTRY following. BAKER drops BROOKE on the ground, BROOKE curls up grabbing her stomach and her arm also. AUTRY grabs her hair and pulls BROOKE's face to the gun which BAKER is holding.)
AUTRY
Look at it!
(BAKER stands above her pointing the gun straight into BROOKE's face.)
AUTRY (Cont.)
(Whispering.) Say goodbye...
(Seconds before BAKER is about to pull the trigger, BROOKE looks and see's her leg and BAKER's legs... wide open. She throws her leg up and smacks BAKER in the groin hard, BAKER screams and pulls the trigger while falling back and shoots AUTRY in the head. AURTY flys back blood squirting all over the walls and BROOKE's face. BROOKE screams and gets up quickly and starts to run, but BAKER points the gun the best he can and shoots BROOKE in the leg. BROOKE screams and falls to the ground grabbing her leg in pain. She gets up as quickly as she can and starts to limp away, BAKER is still on the ground hit one hand holding his groin, he points the gun and shoots, BROOKE ducks and the bullets hit the ceiling and a tile falls and hits her on the head. BAKER shot again and this time it almost hit BROOKE, she fell the ground again, her leg in tremendous pain. She bares through it and manages to get up and run out the hallway. BAKER crawls over to AUTRY's dead body and he picks her up into his arms. He looks up and screams after BROOKE is limping in the hallway making her way to the front door.)
BAKER
(Bellowing) YOU DID THIS! YOU WILL PAY FOR THIS! THE DOORS ARE LOCKED AND YOU ARE NEVER GETTING OUT OF HERE! I'LL GET YOU!
(HALLWAY. NIGHT. BROOKE hears the screams and turns her head back to look to see if he is coming after her. She limps all the way to the front door and see's MICHELLE's body still there, BROOKE stumbles up and falls to the ground and crys at the sight of MICHELLE.)
BROOKE
I am so sorry. I wish you could help me right now like I could've helped you... I really need you right now.
(BROOKE puts her head down and starts sobbing. She hears the sound of a car noise and looks up, and it's a cop car. BROOKE's eyes widen and she starts slamming her hands on the door and screaming.)
BROOKE
Right here! Hey! Help! Please!
(The COP starts walking towards her with a flash light, BROOKE screams even louder and hoping he would see her. The COP gets to MICHELLE's body and points the flash light at BROOKE.)
COP
Did you do this?
BROOKE
NO! Please you have to help! There is a man in here and he has a gun and he is trying to kill me! He killed my friend, please you have to help me!
COP
Okay okay let me go back to my car and call in for help..
BROOKE
NO! Please! Stay here and open this door! I have to get out of here! He could show up ANY minute to kill me! Please!
COP
(Hesitating.) Okay okay. Please I need you to calm down.
(The COP looks at the lock on the door and grabs it with his hand and pulls at it. Finally he gets his gun out.)
COP
Back up and get out of the way, I am going to get this lock off.
(BROOKE backs up quickly and puts her back against the wall. The COP points his gun and shoots the lock off. He opens the door and BROOKE runs after him and throws herself on him with both hands around him.)
BROOKE
(Sobbing.) Oh my God thank you so much! You saved me!
COP
Please calm down. (He pushes off BROOKE.) I need to know where--
BROOKE
Last time he was at-
(BROOKE notices why the COP stopped. He has a blank expression and blood starts to trickle down his mouth. BROOKE is confused and takes a step back. The COP falls and behind him stands BAKER. Sticking out of the COP's back is an ax. BROOKE screams and starts to run off.)
BAKER
You won't get far!
(He gets the ax out of the COP's back and starts all over again by throwing the ax down repeately.)
(BROOKE runs down the hallways screaming for anyone to hear her, she goes to one of the doors on the wings of the hallways and finds it's locked also. She gets frustrated and decides to find some where to hide. BROOKE is about to run into another hallway and see's BAKER at the end of the hallway with his back towards her. We see BAKERS face covered in blood and he stands there trying to here anything. BROOKE stops and skids and crawls back to the other end of the hallway and puts her back against the wall and places her hands over her mouth.She waits. Finally BAKER decides to walk off trying to find her. BROOKE looks over and see's he's not there, she then goes to any door to see if it's unlocked. She trys door after door trying to be fast. Finally the door to the janitor's closet opens she closes it. The screen is black all we can hear is BROOKE panting.)
BROOKE
God... where am I? (Slight pause.) Please be a phone, please be a phone.
(The light comes on from the phone and we see BROOKE's face, she looks comforted by the light, then she feels something wet on her hands, she looks and see's it's blood. Her faces freezes and she points the light around the room and sees MICHAEL's body. She covers her mouth ready to scream. We hear foot steps.BROOKE takes the phone's light and she navigates herself in the corner and hides and turns off the phone. The door swings open and we see BAKER.)
BAKER
Now where could she be? Michael you wouldn't know where she is would you? (Pause and a shot of MICHAEL's dead body.) I didnt think you would.
(The door shuts and it's completely dark.)
BAKER
Oh Brooke... I know you're in here. I can smell the fresh blood. But lucky for me, I have a flash light.
(A flash light turns and we see a vacant part of the room.)
BAKER
You're not there, where could you be?
(He turns the light over to the other part of the room and we see BROOKE standing not even two feet away from him.)
BROOKE
Right here you b****.
(BROOKE takes the phone and smashes it into BAKER's face. They both fall to the ground and the flash light falls and it's pointing on BROOKE and BAKER. BROOKE is on top of BAKER punching him in the face.)
BROOKE
YOU WANT ME!? NOW YOU GOT ME!
(She screams in anger and keeps on punching his face.)
BAKER
Feisty aren't we!?
(BAKER grabs her hair pulls her over onto her back and gets on top of her and starts choking her and slamming her head. BROOKE kicks and suddenly goes into complete rage amost like a tantrum and she starts hitting and kicking anything in the way. She feels around and gets the flash light and smashes it into BAKER's eye. BAKER falls to the ground and BROOKE gets up and grabs a broom stick and starts beating him over and over with it. She stops and opens the door, looks back at him and goes out into the hallway and throws the broom stick and runs. BROOKE goes into the main commons.)
BROOKE
I need a phone. (She stops and thinks. Flash back of her phone falling to the ground in the library when she fell back.)
Library!
(BROOKE runs to the LIBRARY. She leaps over Ms. RICHARDS. Opens the door and enters the library. She looks around, we see the damage, the broken lamp, the items from the desk all over the ground. She looks around on the floor, pushing over chairs and tables. Finally she finds it under a chair. She grabs it and runs out the door. Right when she gets out the door someone runs into her from her side. BROOKE screams.)
JEFF
Hey calm down! Brooke! Calm down!
BROOKE
(Noticing it's JEFF.) Jeff... (She puts her face into his chest and starts crying.)
JEFF
I know I'm late, I'm sorry. What's the matter? Where is Michele?
BROOKE
They're... They're...
JEFF
They're what? Spit it out Brooke.
BROOKE
Dead! They're dead!
JEFF
Michele? And others? What are you talking about?
BROOKE
Everyone is dead! Baker is out to kill me!
JEFF
Mr. Baker?
BROOKE
Yes! Why aren't you understanding me!? We have to get out of here! Where did you come in from?
JEFF
The drama side doors, they're always unlocked.
BROOKE
Let's move now!
(BROOKE grabs JEFF's hand and starts to pull him down the stairs. JEFF stops her.)
JEFF
Brooke! Wait! What is going on here? You aren't making any sense!
BROOKE
We don't have time! Baker is killing everyone, him and Autry are in on it. We can't stay here!
JEFF
(Pause.) Okay. Let's go.
(BROOKE and JEFF run down the stairs and throw the main commons. They turn down the main hall way towards the Drama room. In the wall, the wall jets in where anyone could hide in. JEFF and BROOKE turn down the hall way and pass the jet in part of the wall where BAKER is hiding. BAKER steps out and grabs BROOKE's hair and pulls her back. BROOKE screams. BAKER throws his knife into her chest, JEFF turns around and see's what's going on. JEFF runs for BROOKE.)
JEFF
Brooke!
(BAKER punches JEFF and he falls to the ground. BAKER lets go of BROOKE and she falls to the ground. BROOKE grabs her chest in pain and watches BAKER walk over to JEFF. BAKER raises the knife and stabs JEFF. BROOKE screams.)
BROOKE
NO!
(BAKER throws knife down multiple times and JEFF screams. BROOKE gets up, and watches as the knife keeps getting thrown into JEFF. BROOKE keeps screaming, she turns and looks back and runs to the front of the school, holding her chest. BROOKE finds the officer dead on the ground, she pulls the gun out of his holster. She checks the gun to see if it's loaded. We see her walk down the hall way slowly.)
BROOKE
BAKER!
(She walks down the main commons and turns down the main hallway towards the Drama room, she looks at the jet in the wall and fires two shots into it to make sure BAKER isn't there. Nothing. Silence. She looks over and see's JEFF's dead body. She runs to it, looking around to see if BAKER is around. She looks at JEFF and she starts to cry.)
BROOKE
I'm so sorry... This is all my fault. I wish you never met me. I wish you never left that party. I wish I never stayed here. If only I listened to Michele and lived for once in my life instead of having to fight for a life that hasn't been lived yet. I hope you can forgive me... (She picks up his hand and kisses it.)
(BROOKE continues to walk down the hallway with gun pointed.)
BROOKE
BAKER! Come on! Where are you!? SHOW YOUR FACE! YOU COWARD!
(BROOKE turns down the hallway where the fight happened with AUTRY and BAKER. She notices AUTRY's body is missing, but there is still a pool of blood and trail of it leading back to the drama room. She continues down the hallway where the unlocked doors are. On the right of her are racks of clothing for drama and band. She stops, points the gun at one of the racks and moves the clothing, no one is in them. she waits to hear anyone, nothing. She sees the doors and starts to walk fast to them. BAKER comes from one of the racks and pushes her against the wall and throws his knife into her stomach. BROOKE gasps.)
BAKER
You didn't think it would be that easy did you?
(Blood trickles down BROOKE's mouth. The knife gets pulled out of her.)
BROOKE
No... I didn't..
(We hear a gun shot and BAKER's eyes freeze. BAKER falls to the ground on his knees. BROOKE slides her back down the wall and sits on her butt, grabbing her stomach. More blood comes out of her mouth.)
BAKER
Why... won't you just die...?
(He falls down onto his back. BROOKE gets up and straddles him.)

BROOKE
Because...
(She cocks the gun, and points it at his face.)
BROOKE (Cont.)
Schools out..
(She fires a shot into his head. She throws the gun and starts screaming, her hands grabbing her face she screams and screams. The screen going black.)
THE END.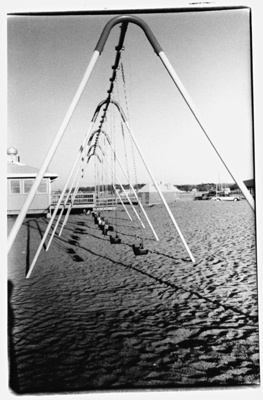 © Gina M., Marblehead, MA