A Town At Night
October 29, 2012
The clouded streets appeared empty and yet shadows danced in the darkness, the ridges in the pavement looked like the slimy scales of a python and I could hear the footsteps of a lone spirit wandering into the never ending pool of blackness. The cold breeze made you shudder and left a tingling sensation on your skin. The smell of booze filled the air and the faint whiff of cigarettes infiltrated my nose as I passed any open window. All the buildings that I would expect to see as a sign of civilization appeared to be completely uninhabited and the sinisterness of the area added to the feeling of emptiness.
But where did this smell of cigarettes come from? And what about the alcohol? It was like a scar, a scar of what it used to be however the scar hadn't healed. Instead, the whole body (the creature) had died, with that scar as proof of what it will always be. Only every so often I came across a street lamp that worked and it cast a pool of light, the only source of safety. But even that safety was temporary; as the light flickered I was dragged back into the shadows. The streets were narrow and even darker than black could be, the only dawning of light came from the moon.
Not even the crickets chirped or the birds sang, it was the sort of silence that reminded you of your racing heart beat and the sweat that trickled down your head as you turned every corner in fear of what was lurking behind it. The sort of silence that brought back all your childhood nightmares and put them in the shadows, waiting to leap out at you. Even the moon looked like it was part of the scar, it was deep red like it has been soaked in blood and it was now seeping out into the sky and onto the town below.
The only real, breathing life left in this place were the bats that hung in the empty shells of the buildings. They fed off the rotting flesh of what used to live here. As I walked, bones crunched and cracked beneath like a pathway to death.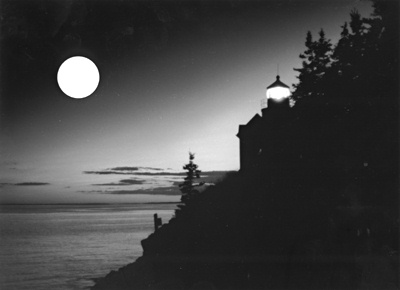 © Steve S., Marblehead, MA