I had the perfect lie
June 10, 2013
I had the perfect lie on my lips.
The perfect lie.
The lie that even I have a hard time not believing, it's too perfect.
I sit in front of the big burly man and he looks at me with deep set brown eyes covered in wrinkles with white hair and a badge that flashes in the florescent light. He's a cop, the cop who everyone talks about in the slums.
"So…." His voice echoes in the quiet.
I knew what he was going to say before he said it. "Pietra. That's your name right? Your real name."
He looks at me and then continues. "Do you know this man?" He slides a picture in front of my nose.
Of course I know him.
He was my friend.
My pulse quickens and my palms start to sweat. I clear my throat and try to calm the horse in my chest and appear relaxed as I set my elbow's on the table studying the picture closely.
Max has blue eyes, bright even in a picture, red messy hair that he liked to spike up, and he always wore ragged clothes. I liked that about him. He also had a freckle on the left side of his strong nose and his jaw line had a strong quality about it. Max always had an air of importance. Up until the last moment.
The moment he was taken away from me, yanked from my side like a thorn from a rose.
"Nope." I sit back and hide my shaking hands under the table. "I don't know him."
I look up questioningly. "Should I?"
The cop is quiet for a moment looking at me, at his prey. He takes a seat and moves in closer leaning his large elbows on the table.
"What happened to him, Pietra? We know he was your friend, one of your best friends actually. What happened to him?"
I'm scared, scared, scared. So very scared. If I tell this cop in front of me then he will know.
He has spies everywhere. All over the place, even in a police station such as this.
I open my lips, pretty and perfect to tell him. I part them and breathe in to tell him the truth and nothing but the truth.
The truth.
Breathe.
"I-"
"Sir?" The door opens, a head pokes in and I whip around reaching for my pocket only to remember that my pocket knife got taken away. Damn.
There he stands impersonating a cop. A cop of all people! He couldn't come up with something better? He had to play dress up?
And Again, Damn.
My brother.
The traitor.
The cop in front of me gets up and walks over to my brother. They bend their heads low and start a whispered conversation. All the while my brother's black eyes that are framed with large lashes blink at me quite innocently. How did he manage that feat? I have no idea. His lips also move at a rapid pace.
The big burly cop nods and leaves. I reach out to the burly man, wanting him to stay. But burly man leaves. Just like everyone else.
"No." I say. And the words pour out of my mouth, faster. Rapidly. "No- no no, no."
My brother smiles at me and slinks closer, like a cat playing with his toy, enjoying his moment of victory. The black cops inform matches every other set of black clothing he has, for that's all he ever wear's is black. His black hair is wind blown around his head and his black eyes and thick lashes make him look handsome.
But he's not.
He's evil and conniving.
"What are you doing here?" My voice is harsh, like a whip lashing in the quiet.
"Dear old Dad wants to see you."
"No, no." I stand up and the chair topples backwards. No. No- no, no. He grabs my arm in a vise grip and I dig my heels into the cement floor without any luck. It doesn't even slow him down.
I'm dragged out the door and out of my mutual comfort zone. Out of my home and into the depths of fiery hell it's very self.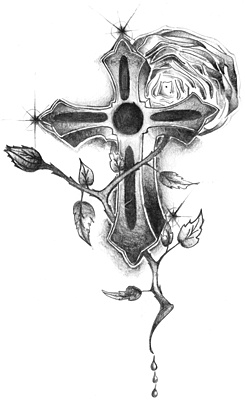 © Ricky P., Natchitoches, LA