unknown
August 27, 2013
His eyes are silver.

Glittering. Cat-like.

An opaque steel like color sewn into his head to make eyes.
Cold silver plated eyes with a misty grey center, and a dark midnight blue around the outer edges.

And his lips.

Puffy.

Red.
And pulled back into his signature smile, or what he calls a smile. Its more of a grimace upon his handsome face with his white straight teeth like sharp deadly pearls inside of his mouth.

His skin is white, almost iridescent. You can practically chase the veins running through his wrists and arms and cheeks.

His cheeks.

They are high and majestic on his placid, smiling face.
Some would call him handsome. others, like me, would call him deadly.
High cheekbones pulled skin tight with his fake smile and fake teeth.

His hair.

His hair is razor sharp and very white. Its slicked back on his oval shaped head with precision and accuracy showing his high brow that suggests nobility in the blood running through his veins. his white hair is white enough that you can see the light playing in it, running its fingers over the man's slicked back hair, see the strands of it pulling and reaching into every little piece of it.

His clothes are black.
darker than black, about the same color as an ebony hole.
His gloves, his turtle neck covering his white skin, his pants, and his shoes.

All black.All terrifying.

He steps forward and leaves crackles on the forest floor under his feet.

Crunch, Crunch.

He moves closer.

I didn't think it could be any more possible for my heart to speed up to a faster rate as he gets closer. But it does, racing in my chest like a horses hoof planted in my lungs.

The bottom of his shoes are a light gray and the color flashes like his skin as he moves in
Closer- Closer....
until
nothing
at
all......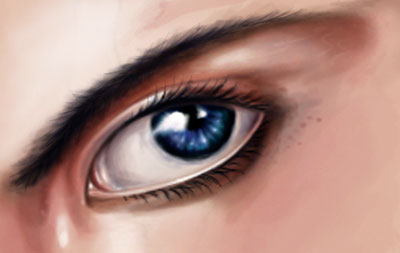 © Raul R., Monte Vista, CO