The Colors of a Dying World
September 24, 2014
Rain falls heavily in a downpour, only they are tears. Blue, blue like sorrow.

Splats of red paint harden on the prone figure in my arms, only it isn't paint. Red, red like love. As it coagulates, it begins to turn shades of black. The same shade as the black hearts who destroyed my everything. Black, black like the darkest of flames that destroy all the light that's left in this caliginous world.

No fight. Everything has been lost, and nobody hs fought back. As I sit there, Blue falling from my eyes, Red breaking my heart in half, Black swarming through the skies, a sharp, white-hot pain lances through my chest. White. White like the light seeping from his eyes, the life leaving from each empty casing strewn haphazardly on the ground.

I hear a snap, and I know my heart is breaking.

I feel the pain burning through my core, the despair in my veins, the bright-red grass and the black, black sky. All of it I feel, see, hear… The End is approaching.

Just like fairytales, minus the happily-ever-after.

Everything begins to shatter all at once as the pain intensifies. My world. My heart. My life. My love. All of it, withering away as the Light is lynched by the suffocating Darkness.

Blue.
Red.
Black.
White.

The colors of my ever-fading world.

Every time, every single time, Black will triumph, eating away at yet another innocent soul. What else is there to do but to roll onto my back, arms and legs sprawled to the sides, waiting?

The Shadows quickly followed the stench of defeat. What beautiful creatures they are, so lithe and graceful. Beautiful darkness, they are. And they have such a poetic way about them, for isn't the death of light and beauty the most poetic thing known to man?

No fight. Everything has been lost, and nobody's fighting back. And then they devoured my soul.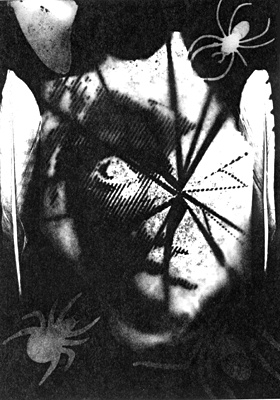 © Lindsey V., Aberdeen, SD