The Whispers
October 30, 2015
I was once a real person, a person with a life, a job, a family, a dream. But things are different now, things have changed. It started when I was five, I was in kindergarten, doing addition, when I heard a whisper, "Kill them" At first I thought it was the wind and I kept writing, 2+3, "Kill them" That time I knew I heard something. I turned to the classmate next to me and said "what did you say" he said "nothing." "Kill them" that time I understood what was being whispered to me, I asked the class If they also heard it, they responded with "no" or "heard what?" the voices the voices were not heard of again.
                After 15 more years I worked at a school, had a wife and 2 children, and was happy. One night I had a nightmare about my families' death at my own hands and the whispers telling me how to do it, I drowned my wife Penny, I skinned my son Jacob, and I burned my daughter Rachel alive. I woke up with my hands covered in blood, my wife backed up against a wall with my daughter in her arms staring in horror, and my son at my feet; dead, in a pool of his own blood, I looked at him, then back at my wife with the same expression on my face as hers, "Kill them."
                I ran, I ran far, far from any city, any town, any civilization, into the middle of the forest where I have lived for a year and a half, I think. And now the voices get louder yet stay a whisper, driving me to the brink of insanity, so now my only company are the she shadows on the ground, and the whispers that echo in my mind.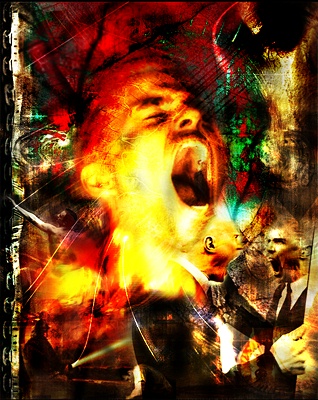 © Mark P. Woodside, NY