They Called Her Fat.
January 25, 2013
One day,
The girl arrived at home and saw The sister,
Gleefully, swinging her legs back and forth.
And The sister, giggling, called The girl
Fat.
The girl lost it then and there.
Screaming, slamming her fists against the table, silence twisted with smashed words
Twisted because
The sister never knew and The girl knew too much.
Fat.
The girl remembered what it was like back then.
One day,
The girl heard them joking about suicide on the bus.
She stood up quietly, and said to them,
"You've never been broken before, have you?"
The next day,
The girl came onto the bus
And was greeted with
"Emo." "Jump off a bridge." "Depressed." "What's wrong with you?"
And the next day.
And the next day.
And every day after that.
They laughed at The girl's shining eyes
That threatened to drown The girl
As she choked
And it just hurt so much to breathe.
Fat.
The girl knew it had to end.
She had to make it go away somehow, it
being that terrible emptiness inside of her that made
her body ache, her heart ache, her mind ache,
Everything. Hurt.
That terrible emptiness, she decided to fill.
So she ate.
The girl ate and ate and ate, until her entire being no longer cried out.
She opened her chapped lips
And with tears trickling down her face
Shoved instant noodles into her gaping mouth.
The soup was always too salty.
And The girl ate and ate and ate
Until the bullying ended.
And by then, The girl was
Fat.
To be honest,
The girl didn't mind the word 'fat'.
She just hated how
'fat' meant
all the pain The girl went through.
To this day,
When The girl
finds herself on the floor, shattered into little pieces
she finds herself
reaching for the fridge.
Because sometimes,
There's still that terrible emptiness inside of her, as
they call her
Fat.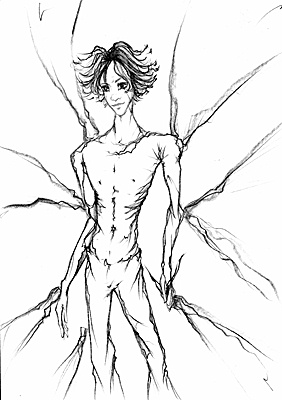 © Ceaanne T., Ridgway, PA