I Know They See Me
January 30, 2013
They huddle,
Whisper,
Point,
And snicker.

I turn away,
Hide,
Close my eyes,
And breathe.

I know they see me.
A couple laughs grow louder,
Their sick smiles widen,
A few more fingers poke.

Why do they not feel guilty?
Can they truly convince themselves
I don't hear? Don't realize?
I know they see me.

Pain envelops me,
Its arms encompass me.
It destroys my barrier.
Swift, strong and unstoppable.

Feeling so surrounded
Should hold me together,
Should be a comfort.
It is ironic how it tears me apart.

My head begins to itch,
My hands start to ache.
I tell myself I can't…
But I'll eventually lose control.

One by one,
My hands develop minds all their own.
Invincible,
They raise to my face like machines.

I pick,
I pull,
I squeeze,
I cry.

I don't know why
I struggle to keep
A natural authority
Over my own body.

My fingers twist and turn,
All I know is I need
To soothe my anxiety,
To diminish my suffering.

My fingers travel,
Against my will,
Across the landscape of my eyebrows,
Over the scabbed terrain of my scalp.

Pick, pull, squeeze.
It is effortless.
A pattern I've memorized,
All too well.

I'm unsure
What good they think will come,
What will be the beneficial effect
Of their cruelty.

In the bathroom,
I stare in the mirror.
I'm different.
It's visible.

My eyebrows—gone.
My eyelashes—gone.
Bald spots on my scalp.
No wonder they mock.

It is strange that I feel
How much the teasing hurts,
Yet I am powerless against the attacks
That cause them to taunt.

Maybe they hope
I'll be more like them.
Maybe they hope
I'll disappear.

In extremes,
In their darkest time of torture,
They may hope
I'll end my life.

But for some reason,
No escape will work successfully.
Trust me,
I've tried.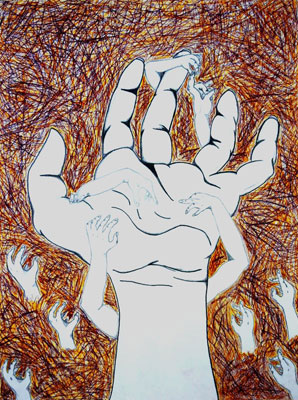 © Ariana R., New Orleans, LA