I Am A Bully
November 17, 2013
"I am a Bully,A simple statement which has a horrid truth."

I inflict emotional, physical and verbal harm upon others. Sometimes I know them, sometimes I don't. Often times I like it...seeing them crumble, watching them cry. Sometimes I don't like it; sometimes I wish they would know how hard I try to make them my friend, and to show them love. Sometimes I wish they would know that I don't want to be a monster who inflicts harm upon someone else.

I am a Bully, I was once a sweet kid; but now...now I am this person who unleashes anger at random passers-by. Is there a way to stop? I don't know... Would I stop I don't know I was taught that the only way to be heard was through inflicting harm. Besides I have already lost my innocence

I remember being a victim of persons like these. I was at school; they called me names at first, then they got brave and kicks and punches were what I received whenever I was in the halls. I remember walking out of an exam room and being tripped by the satans; thought I saw a teacher walked by and asked her if she saw what they've done to me...she replied, "Saw what?" and walked off with a smile. I remember how hard it was to go to sleep because the nightmares of them kept me awake. I remember how the tears burnt my cheeks and how I was afraid to go to school the next day...

I remember my first helpless victim, Myself, I looked into the mirror one day when I had finally had enough and I saw this weakling staring back at me. Mocking me and taunting me, and the voices began sounding in my head, saying I was never good enough, saying I'd live an abused life; and I screamed and pounded my fists against the glass until it was bloody. Then I felt horrible for my thoughts and went to the bathroom. I was ready to give in and I dunk the pill bottle to my head. I remember seeing the tiles; I woke up in a hospital bed. The voices came back when I went home after the incident; and I wanted to show them I'm no coward! so I went and I slashed my wrists... Once again I remember the tiles; and woke up in the hospital bed.

I am a bully although the only person I physically hurt is myself... I am now convinced I deserve the pain. So I spend majority of my days seeing the tile & bloody limbs while my nights are spent waking up in a hospital bed...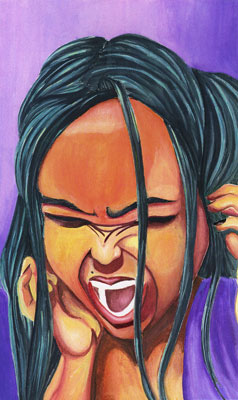 © Kriztille J., Briarwood, NY