I'm Tired...SO I WILL SPEAK
November 22, 2013
It hurts,
It hurts so bad,
A simple sentence hurts
My heart
The thoughts and the lips
That bring forth their cause,
The harm in the words from
The speaker's mouth,
If you stop for a moment
You would feel it too,
You would feel the piercing of
Hearts done by words,
Words that are used to pierce
One's soul,
You would feel the tear
Rolling down,
Down my bruised face,
A face that was stricken
To understand,
Why no one puts a stop to
This person that causes frowns,
I am not imaginary,
I do have a voice,
But to use it
The way that you do,
Would turn me on
The inside,
into the bully you are,
On the Outside
I ask for no one's pity
For I have my own sorrow,
I simply ask to be heard,
I ask for you to
Open your minds and realize,
The young people's cry,
I ask for my tears
Be not forgotten,
But to always be memorized,
I ask for my people
To speak out,
To make our cries
Be heard throughout,
Its time for our
Thoughts be poured out,
Its time for our voices
Be reinforced,
We're tired of not being
Known by the world,
We're tired of
Not being taken earnestly,
We're tired that we can't be
What we wanna be,
Free of Bullying!
And so because of our pain
We will speak out,
Loud enough to be heard
But no too loud to hurt,
Because...
Sticks and stones
Can break our bones,
But some don't know
That a bully's words can also hurt
Us.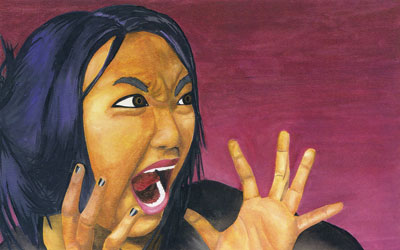 © Lauren S., Forest Hills, NY