President Obama's call for service in our Communities
May 11, 2009
On January 20, 2009, Barack Obama was inaugurated as the 44th President of the United States. Watching the inauguration, for the first time in a long time, Americans felt a new feeling of hope and change. Hope that once again our country would thrive, and change that we would finally be able to heal our country and solve our many problems.

On his inauguration day, President Obama reminded us time and time again, that he can't heal the country by himself. As he said in his Inauguration speech' We must pick ourselves up, dust ourselves off, and begin the work of remaking this nation. The only way it's been done before, brick by brick, callused hand by callused hand'.

On the night of his inauguration, at the Neighborhood ball, President Obama talked again about every American being involved in remaking this nation. That together by each of us getting involved in our communities that we would change the country.

President Obama set up a website called; serve.gov. On the website, you can find ways to serve in your community. Even if you don't want to go on serve.gov, there are many other things you can do. You could send care packages to the troops, volunteer at a homeless shelter or even just helping someone in your school or community that needs a hand.

These things don't take up much time, but ultimately they lead to something bigger. As President Obama said when he was on the campaign trial' I'm asking you not to believe in my ability to bring about Change, I'm asking you to believe in yours.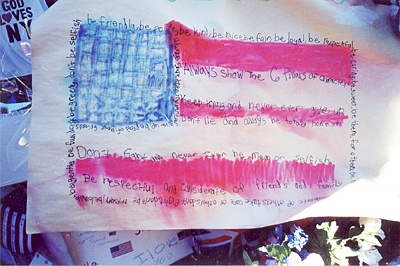 © Ashley F., New City, NY