When One is in Need
May 22, 2009
It was early January, smack in the middle of a ferociously frigid winter. I remember it was early morning, about seven o' clock, and I was walking my five-year-old sister, Grace, to her kindergarten classroom. In the dim light of the streetlamps (the sun had not risen yet), the sidewalks shone with smooth ice. There was an angry bite in the air, the kind that nips at your ears, your nose, and your fingertips, sucking out the comfortable heat of life like a leech.

As we wandered into the elementary school, the front door made of heavy glass slammed shut behind us with a gust of winter's breath. Hastily, I removed my mittens, stuffing them in my pocket, and then knelt in front of Grace to help her unzip her jacket. After struggling with the stubborn zipper, I took Grace by the hand, led her to her classroom, then hugged her goodbye, moving as quickly as I could. I still had to make the trip to my own school by foot, and I had a time limit.

It seemed even colder the second time around. "Gotta push it; not much further," I muttered to myself in encouragement before heading out. Bundled up against the wind, my mittens back in place, I began making the careful journey down the length of the slick sidewalk. One slip, and I could break a bone.

I was about halfway to school when I saw her. There, alone on the sidewalk, stood a girl, about my sister's age, calling for help. She was bundled against the cold, like me, and she held a walking stick in her hand. As I approached her, I noticed there were tears in her unseeing eyes. "Help me," she sniffled through her sobs. "I got off the bus, and I don't know where I am."

Of course, I felt for the girl. Unable to see the ice on the sidewalk, especially near such a busy street, I knew what she was doing was dangerous. Looking around, I sighed in sudden realization as my eyes scanned the empty sidewalk. There was no one around, and this girl definitely needed help. It would have to be from me.

"Don't worry, I'm here. I'll help you," I whispered comfortingly as I took her bare hand in my mittened one, wondering how she had ended up alone. It was hard to suppress the slight feeling of anger I felt toward whoever it was that had forgotten such a helpless little girl, leaving her to wander in the dark by herself.

In silence and without question, I led the frightened girl back toward the elementary school. Though I was sure to be running late for my own first period class, I was careful to move even more slowly across the icy walkway than I had earlier that morning. As we traversed the wintry landscape, one measured step after another, the wind screamed at us to move, motivating us to get inside where it was safe and warm.
It took just a few almost unbearable minutes to make it back to that heavy glass door, but to me (and, I'm sure, to the little girl as well), it seemed like an eternity. That didn't matter to me, though. The Good Samaritan had come out from deep within the wells of my inner being, spreading its warmth and knowledge, and had led me to do what was right. It didn't matter that I was late for school, and it didn't matter that I had to spend a few extra minutes in the horrid, subzero temperatures.
During my last trip of the morning, finally on my way to school, my heart beat with a sudden, fierce pride in realizing that, despite winter's stubborn attempts, I was no longer cold. Instead, I was fueled with a new energy, a new warmth; the kind that comes only from helping others and doing what is right.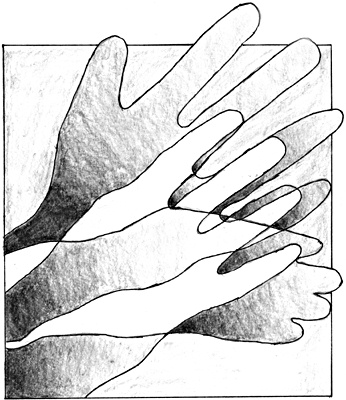 © Dawn Grace R., Barrigada, Guam