A feathery hope
October 8, 2012
Splish. Splash.
Everyone had huddled by the main doors, eager to escape the rain.
...Escape?

Was it yesterday? Years ago? when we had loved to dance in the rain, leap onto the puddles, scatter droplets of rainbows everywhere, giggling.

The rain always made me think of way back when...
When we didn't care what people thought of us, and grinned toothily at complete strangers, and the world was beautiful, brilliant, breathtaking.
When we could laugh so hard at the stupid things we did that we were so proud of, cry together unashamedly, dare to dream and imagine.

...What happened? It all disappeared, didn't it?

But a little birdie called hope whispered in my ear a secret: that maybe that magic was still inside of us, that maybe all it took to awaken the magic was to simply live as ourselves.

So maybe it's stupid to dance in the rain all by yourself, whooping with joy.
Maybe it's stupid to smile at complete strangers or to tell people how much they really mean to you or to be different and wander into the unknown.

But it's a beautiful thing, isn't it?

Today, go out there into this big, big world.
Live...DO SOMETHING, as you inhale the raindrops that tumble down from the lonely sky.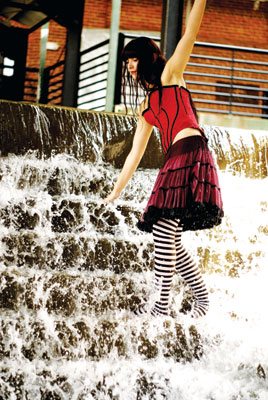 © Daniel H., Durham, NC