Giving A Piece of Herself
MAG
January 18, 2013
I was sitting at the island in my kitchen. My mom stood in front of me, barely keeping the tears from spilling over. Her blonde hair framed her flushed face, and her hands twisted uncomfortably as she told me that my three-year-old cousin had cancer. Shock washed through my body, and I went completely numb. How could this be happening? I had just seen her, had just held her, and she was fine. Now her face was a mess of bruises with cancer coursing through her blood.

These things didn't happen to our family, that's what my uncle said. It seemed like the world turned upside down; just last week my grandmother had passed away. I felt like I couldn't get my feet on solid ground.

That's when my sister, Madi, came down the stairs with her long brown hair freshly washed and dripping wet. She sat next to me and smiled. Despite what was happening, everything would work out, her smile seemed to say.

"Mom, do you think I could get my hair cut tomorrow?" Madi asked.

"Sure," Mom said, starting to scrub the dishes.

"I want to donate it to Locks of Love." Madi swept her thick hair out of her face and smiled.

My mom stopped washing and turned to look at her. "Are you sure?" I noticed that Mom was choking back tears. This was a sacrifice for Madi. Her long hair was an important part of her. It was the only way that some people could tell the two of us apart. I had the short hair, and she had the long. It was a part of both of us.

"Yeah, it's just hair. Eventually it will grow back." She shrugged and let out a small bark of laughter.

"All right," Mom said quietly, smiling again.

What Madi said next completely shocked me. "My hair will be as short as yours. Is that all right with you?"

I looked at her and found myself smiling. "Of course."

Madi gave up a part of herself for a while. She let a piece of herself go to someone else, someone she didn't know. That day she became my hero too.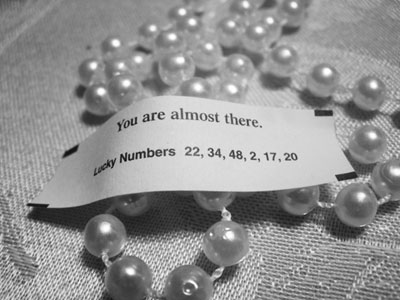 © Elizabeth E., Elmhurst , NY