Marine Plastic Pollution
June 5, 2021
This essay introduces the current situation of marine plastic pollution, which has evolved into a worldwide environmental problem, with the scattering microplastics in the ocean being the biggest culprit. Recently, the first global submarine microplastic pollution assessment completed by the Commonwealth Scientific and Industrial Research Organization of Australia showed that there are about 14 million tons of microplastic pollutants in the deep sea, which is more than twice the amount of plastic pollution on the ocean surface. Statistics from the United Nations estimated that at least 8 million tons of plastics are discharged or discarded into the ocean every year, being equivalent to one truckload of plastic garbage being dumped into the sea every second. The environmental quality assessment made by the European Environment Agency focused on 1.48 million square kilometers of sea areas in Europe, of which there are 1.18 million square kilometers of sea areas owning various degrees of pollution problems, where plastic waste accounts for nearly 90% of the total marine debris. In 16% of the Mediterranean Sea, plastic content exceeds the safety standard, and in some areas the number even surpasses the standard by more than 5 times. In the northeastern Caribbean Sea, there are as many as 200,000 pieces of plastics per square kilometer of the sea. These plastics will be further decomposed into microplastics, posing a new threat of pollution.
When plastic waste enters the ocean, it will be broken down into micro-fragments, ingested by plankton, and ultimately threaten the marine ecological chain and even human health. These are the so-called microplastics, toxic microscopic debris and an efficient medium of other pollutants, being the biggest culprit of ocean plastic problem. Due to the tiny volume of each particle, microplastics are found even in the deepest sea and glaciers at the two poles, being extremely hard to retrieve. At present, the area of ​​microplastics floating in the garbage belt in the Pacific Ocean covers even millions of square kilometers. Scientists estimate that 1 million seabirds and 100,000 marine mammals are killed every year, causing a total of 8 billion U.S. dollars' economic loss to countries around the world. An even more concerning aspect is that microplastics are able to transfer from level to level in the marine food chain, and will eventually end up being in the human diets, detrimental to human health and safety. Recent findings have already observed microplastic particles in the placenta of a newborn baby, suggesting that the situation may be far worse than expected.
Efficient countermeasures for such harsh ocean plastic pollution problems should now be immediately put into practice.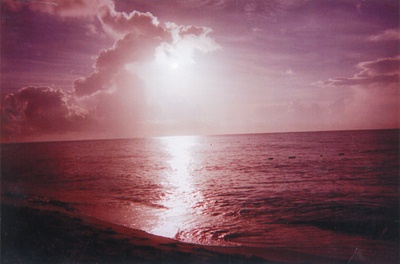 © Angela F., Bonham, TX