Why Go Vegetarian?
June 11, 2010
Going vegetarian can save animals lives, by just simply stop eating meat you can save at least 100 animals a year. I am a vegetarian and proud to be one, and I plan to stay that way. Many people have asked me what I eat. I reply with a big smile on my face, anything I want. Being vegetarian doesn't mean you have to stick to one type of food, there are many different alternatives for meat; there is tofu, veggie burgers, faux chicken, beef, and pork subs.

Do you know what really goes in the slaughter house?
Animals are being mistreated; Chickens are being scolded to death, while they are still conscious; their beaks are cut off with hot blades and nothing to help ease the pain. Male cattle and pigs are being castrated without painkillers. All farm animals spend most of their lives in dark and crowded warehouses. How would you feel if you were to go through this process?

Some reasons to stop eating meat, and go vegetarian. Did you know in every package of chicken there is poop? With every grain used to feed animals could be used to feed hungry people; because no one should kill for a living; meat if filthy and bloody; because eating meat and dairy products can lead to many diseases such a impotence, heart disease.

It takes a small person to beat up an animal, but it takes an even smaller person to eat one. I believe all animals deserve to live a happy life, and they are just like you and I. these poor defenseless animals don't get to see the light, or take a breath of fresh air. So help them and go Vegetarian.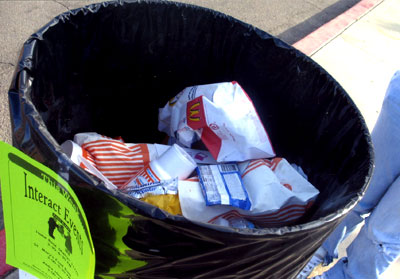 © Christina K., Phoenix, AZ