The Little Girl Who Didn't Want to Get Fat ~ A Biography of Isabelle Caro
August 18, 2014
Isabelle Caro was born on September 12th, 1982 to Marie Caro in Aubergenville, France. Her mother fell into mental illness when Caro was 4 and she became obsessed with restraining Caro's growth. Mrs. Caro heard that fresh air aided children's development so Isabelle spent much of her childhood cooped up with her mother, isolated from typical society. She was homeschooled by correspondence, and saw no other children while she was growing up. Her struggle with anorexia began at age 13. She puts quite a deal of the blame on her mother and childhood for the origin of her disease.

She began modeling at 18 at which point she was told that she needed to lose 10 pounds to continue her success in the fashion business. She was hospitalized for the first time at the age of 20; when, weighing just 55 pounds, she slipped into a coma. Although unlikely, she survived. She worked irregularly as an actress and model, playing mostly sick or dying characters, and having only limited success until 2007 when she finally exploded. She posed nude in an Italian campaign against anorexia. The picture exposed just how thin she was, her spine and tail bone pocking through her skin, her breasts small and hanging, and her thighs that appear nearly as thin as her arms. The photos were taken by Oliviero Toscani, an activist photographer who spearheaded the AIDS sufferers billboards. She became infamous for being the face of the "No - L – ita" billboards. The ads were eventually banned by an Italian advertising agency which determined that they exploited the illness and created a possible negative effect by giving girls an unhealthy image to fixate upon. She disputed these claims in an interview saying, "Thinness generates death, it is everything but beautiful."

The campaign also had great positive influences. In 2008, French fashion industry representatives agreed to a government based act pledging to not encourage disorders as well as promote positive body ideals and a diversity of body images. Singer, Vincent Bigler wrote a song entitled, "J'ai fin", which means, "I am the end" but pronounced the same as "I am hungry." He wrote the song after being touched by seeing Isabelle on T.V. and focused the song on themes of healing and hope.
She soon got much attention from people looking to use her as a voice in the movement against eating disorders, in documentaries, interviews, and chat shows. She subsequently acted as a judge on the French version of the reality show "America's Next Top Model" and appeared in an episode of the English program, "Supersize vs Super Skinny".

In 2008, she published her autobiography, "La Petite Fille Qui Ne Voulait Pas Grossir". In which she provided much insight into her childhood, stating that her mother was deranged and kept Isabelle in diapers until the age of 17 and dressed her in clothes many sizes too small. There is much investigation into how much of the portrayal of her mother was actually factual and whether or not anorexia is a genetic or bloomed from childhood influences. On November 15th, 2010; just two months after filming a documentary with National Geographic's Taboo series in which she displayed much enthusiasm towards recovering, "A skeleton. I see a skeleton. But one on the road to recovery." she was hospitalized due to acute respiratory disease. She died on the 17th of supposedly unknown causes. Her step father, Christian, believed that malpractice was likely and he filed a complaint with prosecutors for manslaughter and negelance although her death was most likely brought on by immunodeficiency due to anorexia. Her father did not announce her death to the press until a month after, allowing time to grieve and hold a private funeral.

Her mother blamed herself deeply for both Isabelle's disease and urging her to go to the hospital, and two months later, on January 19th, 2011 Marie Caro committed suicide. Even after her death, Isabelle's ripple continues to spread.

Through controversy, Isabelle stood strong through her weakness and strived to create an example for girls and boys around the world struggling with eating disorders. There is some talk about whether Isabelle even truly wished to be healthy, and is even seldom portrayed as selfish and conceited, and there is questions as to how much her mother really did or didn't affect her. In an interview Toscani said: "I don't have happy memories of Isabelle. She was very selfish and full of herself, right up to her death. She could never grasp that she was not a model. She was a sick young woman. She thought that she was a successful actress... but her only talent was to be anorexic." People with eating disorders are often not themselves, it is a mental affliction which can easily consume lives, but no matter her motivations she opened the public eye to the reality of an everyday issue. Her high profile death reminds the public of the less recognized deaths that happen all too often in the eating disorder community.

Through my research my opinions of Isabelle have changed, from positive to negative to neutral but whether you love her or hate her, Isabelle Caro opened eyes and dropped jaws. I was drawn to her because of the testimony of strength that was her life. No matter who she was as a person, as long as her story helped even one girl to recover or just feel more secure about them, she was successful. Most problems are born from silence, not talking about or acknowledging the problem allows it to fester. Even if Caro's memory only leads by an example of what not to be, than she has still opened mouths and minds to bigger problems. I chose Isabelle because I see such great beauty in her strength. I appreciate her taking a stance against her own disease and trying to help others in the same position. She was a very brave woman, who carried herself with inner beauty and humanity. I find her utterly inspiring and the change she reached for has opened eyes to this cruelty in fashion and awareness is the first step in fixing any problem. No person is entirely honorable but it is in what they accomplish by which we should judge them.

I think Isabelle stands as a great cautionary tale to young girls on the cusp of developing a disorder. "I thought this could be a chance to use my suffering to get a message across, and finally put an image on what thinness represents and the danger it leads to -- which is death...to make people react, for young girls who see this to think: 'Oh, so that's what lies behind the beautiful clothes, the hair, the image that we are shown of fashion.'" It is a celebrity's duty to provide an example to the public of the great overcoming powers of the human spirit although she did not beat her condition, she did pave the path for other girls to make their own way to recovery for their selves. With determination, anything is possible, even if it is to just make it possible for future girls who are just like you.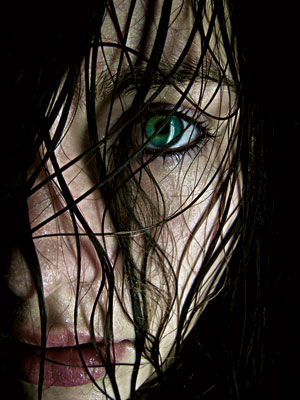 © Jorrdyn K., Washougal, WA