Live
December 31, 2008
I used to not hole myself up in my room so much. I used to sit in the living room, go for walks... even do my chores. I used to get good grades, be a good kid, and have good friends. I still maintain the latter, thank goodness. It can be unbearable sometimes without my friends a phone call or email away.

I used to read a lot, but not obsessively as I do now. I wouldn't remain in my room, for 23 solid hours reading, and then finally decide to come out and eat something. I used to write more too, not as much as I do now, but enough that I wouldn't go insane and be diagnosed with 'literary psychosis.'

My excuse? I'm different. My brain doesn't function normally. I don't behave normally. I'm upside down and inside out crammed together. I'm happy and I'm sad. I'm crazy and I'm sane. I'm the day and the night and all the cosmos cramped together into one, 5'5'' frame. I can't even blink without disrupting an entire civilization.

I used to laugh a bit more, at things others found funny and not just myself. I have a rare brand of humor; sarcastic and violent. My friends share an inkling of my sarcasm and none of the violence. They know my humor and how I act, so it's easy to brush it off and move on when I say something that is offensive to them.

I used to be just like every other teenager, except for my addictive reading and writing habit.

It changed eventually, sort of like everything does. I stopped coming out of my room, stopped doing my chores, and watched unfazed as my grades went from A's to F's. It didn't bother me. It didn't penetrate a new wall that had been built.

I have lots of walls. Ones of plywood, ones of sheet rock, the occasional one of brick. They fit with my life perfectly; no one noticed them and neither did I most of the time. But this new one I notice. It's made of metal. Adamantium to be exact, the kind of metal Wolverine from X-men's claws are made of. The indestructible stuff.

If anyone notices my wall, they don't say anything. My new wall even keeps back the tears. I want to cry, but nothing comes. Nothing ever comes.

I hide. I shake. I freeze in the darkness that always fills my room. I'm scared of the dark, but it's simpler than the light.

I once wrote in a story of mine, "death is easy, life takes courage." I'll be honest, when it comes to myself, I'm not very courageous. I'll defend my friends in a heartbeat, but in regards to my own well being, I could care less.

I was suicidal once. Three years ago. My brother talked be off the edge. He's not here now. He's a few states away. In my personal hell. It's not terrible, but it's not good. I can take three months in that state before I go supernova and have to come home. Home. I'm currently catatonic here.

Which is better? Supernova or catatonic?

It's New Year's Eve right now. 7 pm to be exact. I'm thinking about what my New Year resolution will be. I have a couple options.

-Read more.
-Finish my novel.
-Get better grades.

But in my mind's eye, on the scrap of paper marked with a black marker then burned and tossed to the wind, none of the aforementioned are written down. There's only one word; what my resolution should be.

Live.

But I'm scared to.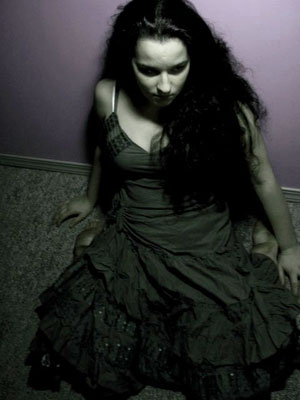 © Brianna D., Everson, WA