My Green Revolution
MAG
May 29, 2015
This kid eats anything. And everything.
There are a few reasons why. There is no way you can make me skip breakfast: it's either bus with breakfast or no bus at all. My skinny-girl crisis was resolved in prehistoric times; the few times I've missed meals were purely unintentional and resulted in great misery.
Blessed with limited allergies and a stomach like a bottomless iron pit, I like to pig out. I've been that kid who groans internally when dinner consists mostly of microwaved vegetables. And more vegetables. And some very old meat.
Those meals happened frequently when I was growing up. My parents were determined to feed me the right things the right way, no matter if I wanted to eat healthy or not. But I was deeply concerned about the frozen fish sticks going extinct in our fridge, and meeting our weekly quota of microwave ramen noodles in a cup. And after a while, my family's shopping list began to give in. The sweetened, fried, and processed goodies began to pop up in our pantry. Not a lot, but enough. And I barely noticed, since that was when my attention was sliding toward high school. It was all fine by me.
So what does it take to turn all of that around?
Less than you'd think.
In fact, there is a chance I'd never have faced this revelation at all. And as sad as this is to say, I would represent the bulk of American kids today and their eating mentality.
However, I have Netflix.
Most people use Netflix to watch intensely emotional films like "Lilo & Stitch," and I happen to be one of them. All the same, I decided to check out a friend's recommendation of "Plastic Paradise," a documentary about the Great Pacific Garbage Patch. This person knew I had recently converted into an environmentalist nut and said I'd love it. Coincidentally, it in turn inspired me to guilt-trip my English class with a speech about the evils of plastic.
But it also opened my eyes – wide. I was eager to eat up this strangely heavenly nonfiction, and the next thing on the list was "Hungry for Change," another highly rated documentary focused on the shocking truth about what makes Americans the fattest people on the planet. I was in. And that was when the magic blew me away.
I became obsessed. One of the main points of the documentary was the sugar in the foods we eat every day. While some teenagers might count the calories or carbs in their Mountain Dew, what they should really be concerned with is the sugar. All the carbs we gobble up are eventually turned into sugar in our bloodstream, then stored as fat cells. Sugar matters, and not just for diabetics. The American Heart Association recommends limiting daily sugar intake to six teaspoons for women and nine for men to maintain long-term health. A typical 12 ounce can of soda contains about 10 teaspoons, and some brands have even more. Gatorade, a "sports drink," has almost nine teaspoons of sugar per 20 ounce bottle. So much for dessert.
"Hungry for Change" pointed out that no matter how many versions of the iPhone 6 humans can produce in a year, we're still very much animals, and we're not eating what we should as a species. When people go on diets that starve them nutritionally, or rely on overprocessed food, their organs pay the price.
This hit home for me. I could count and count molecules of sugar, but facing the fact that this cheese sandwich does not remotely represent anything organic was a game changer. Suddenly, some things did not look appetizing anymore. That pizza for dinner Sunday night? Crawling with scientifically perfected product. The fast-food fries looked too yellow. And the milk I was drinking was technically not milk anymore.
I got a sinking feeling as I watched my friends buy sugary 1% milk, sugary crusted chicken patties, sugary fries, sugary ketchup, and very sugary cookies for lunch. Practically every day. It didn't seem like anything I could say would sway my friends more than it would annoy them. But maybe this article will.
I am enchanted by the idea of simplifying my diet, and not just because of inherent laziness: what I eat is supposed to represent what it looked like while it was being grown, and that means showing a little leaf. A lot of green. And it doesn't feel like the government is making it easy to be healthy, in schools or out. But progress is being made to drive us in a healthier direction. And a lot of it starts, I think, with our own green revolutions.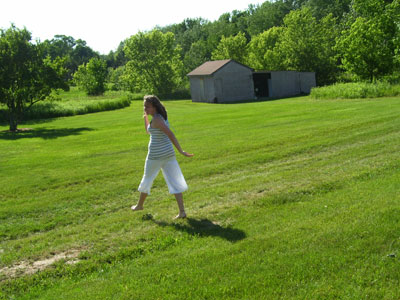 © Jamie Y., Alto, MI