THH: Sleepyhead Tween
January 8, 2016
Maybe it's the partying. The music. The annoying friends that promote partying with music. Whatever it is, you could say teenagers are becoming nocturnal.
Only they're not. Despite a killer amount of energy and metabolism to burn, the average teenager still needs 8-10 hours of sleep every night.
But maybe you know why you don't get enough sleep, and you share my grief. Maybe you have serious grief. After going to bed at midnight for the last week, I was reduced to a sick and cynical blob by Friday evening. Now on top of looking like I pay attention in class, I have to worry about looking awake in class. And there seems to be only one reason why.
...Homework.
I can't count how many times I've gone hours into the night, burning through worksheets, practice quizzes, review guides, or study sessions with equally sleep-deprived friends. (My mom has counted, however, and is ready to sue.) It seems like as soon as I turn around, a project is replaced by a study guide, which is replaced by several worksheets, a packet, an analysis review that turns out to be for a grade, and--cue nuclear explosion--THE TEST. Hit sucker punch and repeat. The holiday season? Final exam season. Grades? Summer school. Credits. GPA!! COLLEGE!!!!!
Sometimes it feels like a huge smelly garbage compactor is closing in from all sides. And unlike Han Solo or any of the twins, I don't even have a Wookie with me.
But believe it or not, homework isn't just slow creative torture. There is a reason why we do it. Studies have proven supplemental work at home enhances learning. Hence: "home-work." And as more and more people turn their headlights toward college, it seems the only way to separate yourself from the mob is to attain skyscraping grades. Aka, bring on the homework!!!!!
But no matter what keeps you up at night, whether it's the teenage dirtbag gang or AAAAGH MATH, you, like 85% of high schoolers, are not sleeping enough. And as annoying it is to have to rescue yourself from class time turned nap time, lack of sleep has serious consequences. You actually learn less--concentration, memory, and even attention span decrease. You hear that, textbook?!
The list of deadly effects go on. Stress eating. Pimples. Acne. Physical aches and pains. Impatience with loved ones, or the less loved ones you are legally required to play nice with. Not enough sleep, period, can even increase the chance of an accident, where you might fall asleep in front of the wheel. It also increases the chance of getting an injury or illness.
Now that we all have shivers down our spine, there is a way out. Making sleep a priority isn't a bad idea; in fact, it's a pretty good one. Even academics and extracurriculars face limits when your health is threatened. And by threatened, I mean seriously threatened. Or, if you're worried about missing out on all the social goodies that accompany "partying all night long," well, don't worry too much. There's plenty of fun to be had with friends and family without damaging your body.
And as for the people who still refuse to stop science-ing at 2am, notably my dear and beloved friends the future prodigies of America, naps can increase your efficiency if you plan them out right. Of course, this is all swell coming from me, as I write this very article in the wee hours of the following day. But, hey. Winter break for the sleep deprived.
Sleep is important, and not just because pillows are great. Not getting enough sleep has serious results; you want to protect yourself from greater chance of accidents, injury, illness, and that pimple in the center of your face. (It's okay, I have one too.)
Luckily, there's plenty of ways to make sure you get enough Z's. Excuse me while I go get some myself...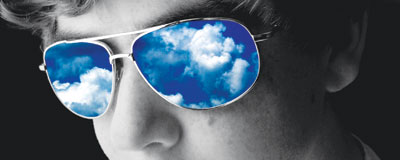 © Joseph B., Mesquite, TX