Thoughts on "Traveler"
February 17, 2010
I must confess that I have grown more and more disappointed with every edition of TeenInk that I receive. The fiction section has noticeably diminished in artistic value since the first edition I read two years ago, and I find myself unable to concentrate on most of the poetry.

However, "Traveler" was one poem that caught my attention and actually kept it, leaving me faintly smiling upon its completion. The language was simple, sincere, and delicate; lines such as "your life unravels / into a single strand of yarn / that weaves itself back into the tapestry" made me pause to let the vivid visual float through my mind. This line is not alone in "Traveler;" the entire poem is one long picture reel, a gentle dream and a soft sigh. Ms. Hsiao has the delicate style of Jeanette Wells, simple words, simple images, beauty in simplicity. I thank TeenInk for publishing "Traveler," and look for the next edition for the next treasure to find.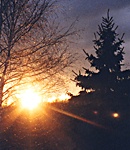 © Christy S., Germantown, NY