Cheerleader Falsities
February 25, 2010
Ok, so Cheerleaders have a rep for being preppy.
Everyone knows that, it's like one of the rules of Society.
However, not every single one of them is like that.
I know a ton of chill, down to earth, girls that are cheerleaders that aren't that total blond, stupid, preppy, stereotype, people make cheerleaders out to be.
So just out of pure frustration and boredom I'm going to list the fallacies people believe about cheerleaders.

1) Cheerleaders are idiots and have no brains.

WRONG!!! First off, cheerleaders have to be pretty smart when it comes to stunts and choreography.
They have to remember all the moves, all the cheers, and all the stunts so they don't mess up in front of people.
That's a lot of stuff to memorize.
Second, cheerleaders have to maintain at least a C average to remain on the squad.
That's a lot higher than what some of you judgmental hypocrites make in your classes.

2) Cheerleaders are girly-girls who don't know the meaning of hard work.

WRONG AGAIN!!
Cheerleaders have to keep up their grades and then after school, while some of you lounge on the couch snacking, they're practicing two hours every day after school!
And then after practicing for two hours and it's now like 5:30 when they get home, and they have to do their homework that will take like an hour or more.
So by the end of the day, they are exhausted and have probably done more "work" in a day than you guys have done in a week.
And for all of you guys that think you have it hard with homework and after school activities, you guys have the weekend to relax.
Cheerleaders have games and pep rallies and fundraisers and practices.
They don't get to just chill on the weekends like you do.
I'm not saying that cheerleading is more of a sport or more work than other things, I'm saying that cheer is just as hard, just as stressful and just as time consuming as any other sport or activity.
So don't belittle it.

3) Cheerleaders are all preps.

No way.
A majority of the girls are preppy and whatever but they are not ALL like that!
They have brains, they're individuals.
They can think for themselves and you don't have to be preppy to be a cheerleader.
It goes the same way for every thing else.
For example, I'm preppy-ish, (I say this with clenched teeth) but if you know the people I hang out with you know that they are so different.
You don't have to be scene to hang out with the scene kids, you don't have to be a drama fanatic to talk to the theatre crew and you don't have to be preppy to be cheerleader!
4) Cheerleaders can't run worth crap.

This is the one that ticks me of the most because it's one of the most believed and one of the biggest lies of all cheerleader myths.
For instance, today my P.E. teacher was talking to a girl about how she was running with her arms at her sides and waving her hands.
The teacher yells at her and says, "You're running like a cheerleader!"
Offensive much???
Yeah, I thought so.
Through out the class period she just kept saying how running like a cheerleader was deflecting her abilities as an athlete.
Ticked me off so much.
My lip was bleeding by the time the bell rang from biting it to keep from saying anything.
Cheerleaders are very athletic.
A friend of mine plans on trying out next year and she is constantly working out and stretching and running.
And when you're on the squad, at practice, you run around the track a couple times just for warm ups.

That's running around the track, every day, after school, several times.
That's more exercise than a bunch of you do every day.
To be a cheerleader you have to be fit and have devotion.
It's not that blow off sport that some of you make it out to be.
It's hard work and and very time consuming.
So I hope you think about that the next time you decide to trash cheerleaders.


Leave you're comments please I wanna know what you guys think of cheerleaders!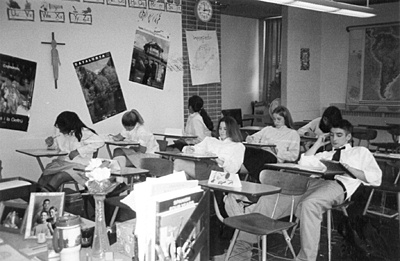 © Fox V., Whitesboro, VT