Answer: We Are All Different
February 8, 2011
My friend told me today that she doesn't believe in evolution.
I believe that the appendix is proof of evolution.
She is a Christian, I am a Jew.
I was raised with science and knowledge of the way the brain works, and recognize that all people are different.
She thinks being gay is a sin.
I pray as though I was speaking to a big brother, someone who has been with me always, and understands my thoughts in a way that I do not. I pray in the way that I need to, and my prayers are always changing in style.
She prays in ways her family has been doing for centuries, and believes that to change that would be a sin. She looks at God as almost unattainable, someone she must fight to reach.
I look at her and see a girl who could work harder to learn.
She looks at me and sees someone who is going to Hell.
I don't believe in Hell.
I don't believe that Jesus was the Messiah.
I didn't believe in a God until very recently.
She is my friend, and I am hers.
We talk about religion, and I learn from what she knows, and I slowly redefine my religion as I learn more about the world. We talk about boys and clothes and school and our parents and I tell her my secrets and she tells me hers.
We will never think the same way about some things, but we can be best friends anyway.
Why can't the whole world think like we do?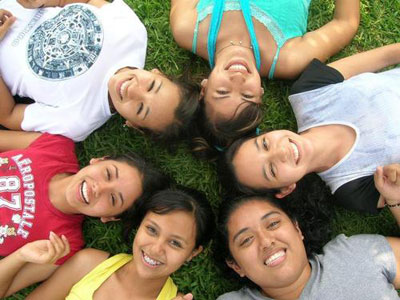 © Ana F., Guadalupe, Mexico