What more can the media do to degrade women?!
August 15, 2008
I was looking at a magazine yesterday, and i found myself thinking-what if i was that size? Would i be as beautiful as her? Could i find a really hot boyfriend? And now when i look back on what i was thinking, i have to say, what WAS i thinking?
I am a beautiful person, and although i could never be a model because i am a bigger girl, due to being an athlete, i realize that every woman is beautiful in her own special way! Maybe someone has amazing eyes, or another woman has a pretty smile- why do we have to be supermodel beautiful to think that we ARE beautiful?
The media has gotten worse than it has ever been, showing models looking models that look more like stick-figures than the curvy models of the 80's- like Brooke Shields! Media! Please give us a break!
All the pictures we see are constantly nagging us into anorexia and it is not fair that we have to put up with this!
I certainly don't feel the greatest when i go shopping- it doesn't give me the pleasure it used to... i was naive once, and sizes never mattered as long as i thought the clothes were cute. But that's out the window now- all i can think about is how much looking at double 00's make me sick- and even sicker because i realize i want to be that size. And it's not healthy to be that size anyway-
so for now i'm going to pat myself on the back for eating what i want to and when i want to- and i'm going to love every muscle and curve of my body! I think every other woman should, too!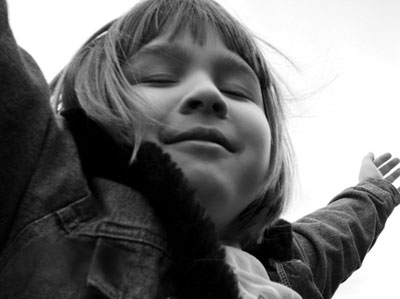 © Morgan C., Fridley, MN