Dear Myself
February 28, 2009
Dear Myself


Dear myself, we've been through a lot together haven't we?
The mountains we've climbed, the task overcome'the racism we've faced.
Remember them? The snickers in the back room when ever we'd get a question right
The black jokes that seemed to encircle the entire class when we stepped out to get a drink or use the bathroom and then the hushed silence that hovered when we'd return. We told ourselves to ignore it, let them waste there time on something so point less. It's not like we've never heard it before.

Soon, we grew used to it. We never fought to control the tears that threaten to leak, we never had to put on our bored face anymore we stayed as still as rocks and as black as a sheet of paper. We soon forgot how to feel, how to react, we were stone. You remember it don't you? We said little, talked little, soon people forgot about us and the jokes went away.

While, I remember. It was that night when we were alone in the house when the phone rang. I wanted to ignore the ringing and read my book, but the noise persisted. Finally, in silent surrender we answered the phone.
'Hello?' my voice was husky and slick with tire.
'um hi?' a voice responded. Young, not good. It was a familiar voice, some one in my class, perhaps? But why would they call here?
' is this Cecilia?' the voice asked. I nodded forgetting that I was on the phone and whispered 'yeah?'
' you want to come over Saturday?' the voice asked quietly, was that a snicker I heard in the background? Nonsense' I was so paranoid. The silence drilled on as I pondered the reason for this unexpected call.

'hello?' she asked again, I wa sure it was a girl. 'Why?' I asked angrily. 'why do you want me to come over your house, who are you anyway' I demanded.
'you don't remember?', her voice broke. ' how could you forget?', she cried.
'this is ridicules, why are you crying?' I shouted. ' you can't just call here and cry. Don't you know the rules of phoning?' a strange hiccupping sound came form the phone, and finally her cries quieted and I realized she was laughing. At me? I thought quietly. Or'this was so unbelievable'at my joke?

' I've finally got through to you,' she said finally. ' you were always so alone and quite, never saying anything, not responding.

'for the first time in my life,' she continued 'I wanted to be your friend I hated what people said about you and was too ashamed of myself to tell you.'

When I don't answer, she begins again
' Cecilia, I want to be your friend. Will you be mine?' and we did the only thing we could possible do after years of feeling nothing but ice and rocks: we cried.


So, myself, she broke though our hard made defences like a knife through butter with one small question. It took us some time, but we came out of our little shell, bit by bit. I want you to remember this, remember it forever. Racism hurts a lot, so do something about it. Years of it have left us permanently crippled and we still don't converse as loud and as long as we should.

So you see that old man walking away and ignoring the shouts and jeers those kids are yelling? Do you hear the words they are saying?
Walk up to them and say something, anything. Then walk up to that man, and pat his back. When he turns around, smile. And be patient while he tries to understand what you could possible want. Them when your sure he's done thinking, introduce yourself, apologize for the kids back there. Shake his hand ask his name, then say: 'hi, I want to be your friend, will you be mine?' and wait for the magic to take over.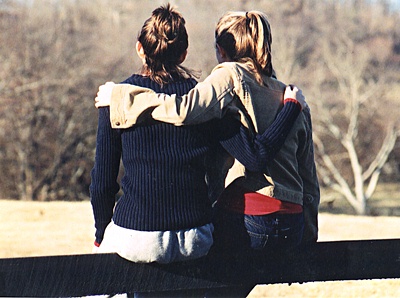 © Jaime M., Wichita Falls, TX