Who are you and what difference can you make?
February 18, 2011
While so many, including yourself, are trying to figure out who they are and their place in this world, there are many probably wishing finding the identity was their biggest issue. Yes, there are other issues that take precedence and it is not the biggest problem to have, it's still something that may take many years and heartbreaks, joys and laughter, to figure out.
Obviously, people will go to many lengths to figure out what seems to be one of the hardest questions they may have to answer, we need to remember those who've literally got nothing. It may seem complicated to do both at once, but maybe, in thinking of other people and their needs, we may find our own.
Maybe that's why God put you on earth: to help others. We've all heard the stories of how helping others has made people feel whole, and I agree completely.
However, I think that God is the main part to finding who you are. After all, to help others, you need His help, and through that you can find yourself.
Even if you disagree with me, and it won't offend me if you do, it's definitely important to help others all we can. I'm willing to bet that if we have a computer or even a phone to see this on, we aren't the worst off in the world. But what can we do to help those who are? We need to use our love and reach out to those who need it the most.
We all know there are people who aren't as fortunate. In Africa, for example, many of the people have diseases from the polluted water, but they've got nothing else. They've got no clothes, and many have transmitted diseases, such as AIDS with no way to prevent it or protect their bodies from it. Many parents lose children and children parents and sisters and brothers and cousins and... I could go on for awhile.
But it's not only in far off places that people need help, it's here, it's where you live, where you visit, anywhere. You can change some body's life while finding your own. And I'm not saying we don't all have problems, or that they're less important, only that sometimes we need to focus on someone besides ourselves to make a difference. And look around, guys, this world needs a difference, and it could start with you or me, so let's go!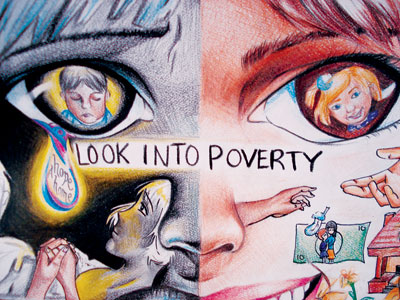 © Shirley L., Chino Hills, CA