Unconscious
MAG
August 26, 2008
There was a dead girl in front of the library this morning. She was breathing, but she wasn't alive. Whatever existence she'd had during her few years – I calculated she was around 13 – certainly wasn't life. She was tossed carelessly on the trash-­littered sidewalk in front of a boarded-up doorway, drugged and utterly unconscious of the world around her. The filth and stench of the city were caked into her skin. She seemed part of the garbage she was ­lying in.

My home in Medellín, Colombia, has a lot of poverty. I'm used to seeing dirty, starving children begging in the streets, unkempt old men sleeping ­under newspapers, and hopeless teen­agers forgetting their pain in glue and needles.

But this … this was different.

The girl's clothes were pulled high above her chest, ugly testimony to what had been done to her the night before. Person after person walked by. Boys leered. Children gaped and were pulled away by mothers who wrinkled their noses and quickened their pace. Not once did I see a trace of caring.

I knelt down and shook her gently.

She stirred and turned her head to me, and a grimace flashed across her face. I realized she was no child. All concept of age was erased from my mind. Perhaps she was barely a teenager; perhaps she was as old as humanity.

"Señora," I said softly. A fly alighted on her cracked lips, and I brushed it away. Still she did not wake. I don't know why I cared. Certainly no one else did. But I couldn't leave her like that. I couldn't. I should cover her. I reached out to pull down her shirt but retracted my hand. I had no right to touch her.

I knew what I had to do.

Even as I pulled the sweater over my head, I didn't want to. I didn't want to give my favorite sweater to someone who would just sell it for drugs. I didn't want to care. But it was too late. Once you open your eyes and see reality, you can't close them again that easily. And even though I wished I didn't care, I did. She was a girl, my sister in ­humanity, a person just like me. God have mercy on us both.

I draped the sweater over her. The pulsating noise of the street suddenly quieted. The outside world ceased to exist, and a deafening ­silence enveloped us. Time slowed. The moment seemed eternal. We were the only ones in the universe – just me, the girl, and the dark blue sweater fluttering down in slow motion.

I had the sensation you get when you pull the sheet over the face of a corpse and say, muerto esta. The last fold of cloth settled on the gray cement, and suddenly time was once again going. I heard the rushing cars at my back, felt the burning sun, and smelled the filth. Nothing had changed.

I got up too quickly, nearly losing my balance. I needed to get away.

"La felicito," an old man, who had apparently been watching me, said in congratulations. "Is it a little girl? So sad, so sad. What a shame."

"Yeah … I don't know," I mumbled, hurrying away, horribly embarrassed that I'd been seen. Supposedly, when you do a good deed, you get a warm fuzzy feeling inside. But all I felt was a deep, aching sadness.

I used to believe those heart-warming stories about how people's lives were changed by some small act of kindness. If this were one of those ­inspirational stories, years later we'd meet again. She would have risen from her poverty and pain, achieved success, and been converted to some nice religion. I'd be down about something, perhaps thinking that my life was worth nothing. On an impulse I'd step into a church and – voilà! – she'd be there giving her testimony about how she'd lived a totally empty and meaningless existence until her life had been changed by the act of a caring stranger who had covered her with a sweater.

And then I'd get up, with tears in my eyes, and shout, "I am that stranger!" And we'd hug and become best friends and I'd go home completely happy in the knowledge that my life had been good for something after all.

But this isn't an inspirational story. The real world isn't that nice. When the girl came out of her stupor, she probably wouldn't even notice the sweater or wonder where it had come from. She'd use it to get more drugs. That night she would again sell her body and her soul, and the next day she would once more lie on the street with her shame open to the world. And my feeble act of caring would be worth nothing.

I headed down the street and sud­denly, to my disgust, found tears running down my face. I dashed them away, not knowing whether I was crying for that girl, my favorite sweater, or the fact that no one had cared.

I thought of the Jesus I'd been taught about in church. He would have cared, I think, if he'd been there. But he wasn't there. I wished he were. It hurt.

People at church would tell me that he was there, that he'd cared through me.

I sighed. Maybe. Maybe.

But all the way home, the pain ­remained.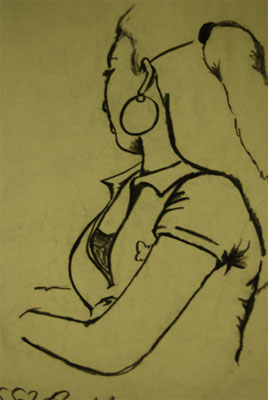 © Janessa B., Kannapolis, NC