Report Card
July 4, 2009
I was born in a small country named Bangladesh. I grew up there, for five years, with my family. Some of my most vivid memories are from my younger years, back when I lived in my native country. One of my favorites is one of my first school year. Pre-school in Bangladesh is much different than pre-school in the USA and like any three year old, I made silly mistakes, which turned into lovable memories.

I walked to school everyday with my parents, hand in hand, wearing my navy blue school skirt and tie, with my hair up in pigtails. I sang songs in the morning, memorized poetry in the afternoon, and practiced writing my alphabet when I got home, usually for homework. But one day, instead of handing us our notebooks at the end of the day, our teacher handed us identical brochures of thick, shiny paper. Each one had the name of the school on top and when I received mine, it had my name printed neatly on the bottom.

Without stopping to think what it might be, I picked up my "assignment" and walked home with my nanny. I wanted to finish my homework before my mom got home and ran into my room with my backpack. I pulled out the shiny brochure and opened it to find rows of boxes all over it. In the first box of every row was an A. From that, I knew what to do and began filling in every box thereafter with the rest of the alphabet.
When my mom came home, I quickly showed her my beautiful letters, but some reason, she was more worried than impressed. She took my homework away from me and didn't say another word about it until the next day, which was a Sunday. She brought me back to school, talked to my principal, and then took me home. She had gotten another shiny brochure.

Finally, on the way home, I worked up the courage to ask my mom what had happened. I thought that she didn't like my handwriting or that I had written a letter wrong. Then, she looked at me and told me what my homework really was. That was the first time I ever heard about a report card.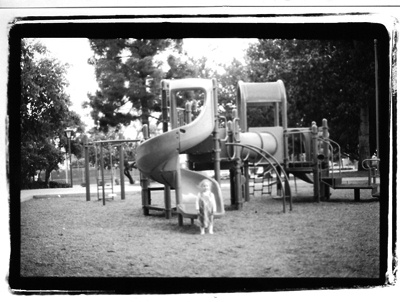 © Rebecca W., W. Hollywood, CA