Screaming Fan Girls
August 24, 2011
The first time I picked up a copy of Twilight by Stephanie Meyer in the seventh grade, I had no idea of the phenomenon I had just come across. I know what you're thinking, and no, I'm not one of those crazy, screaming fan girls in love with a fictional character or who kisses posters with their faces on them. I'm not even here to tell you about how amazing the book Twilight is, either. Twilight, for me, was not just a book, but a page turner in my literacy.

When I was younger, in elementary school, I was a pretty decent reader. I learned words with ease, could effortlessly sound out the letters, and finish a page in a book fairly quickly. My only problem: I hated reading. I didn't understand why someone would want to read a book for fun. To me, books couldn't be fun; they were a waste of time. I had plenty enjoyed listening to bedtime stories or books the teacher read out loud, but for me to have to do it myself? 'What a waste of time!' I thought.

In fourth grade, when we started reading books in class, I was really in trouble, I would skip over sentences, paragraphs, and even sometimes whole chapters, for the simple reason that I didn't want to read them. Somehow, I managed to read just enough to make my teachers think that I had read. Throughout the span of about fourth grade through around seventh, I missed great books that my teachers wanted me to read, like Hatchet by Gary Paulsen, Holes by Louis Sachar, Sarah, Plain and Tall by Patricia Maclachanan, Maniac Magee by Jerry Spinelli, and countless others that I can't even recall. Why? Because I just didn't care.

Once I got into middle school, I was introduced to a whole new array of friends. Friends that I wanted to like me, so I wanted to do everything they did, and at the time, they were reading Twilight. So what did I do? I read Twilight, of course! I asked for it for Christmas, and Christmas morning, there it was, the 498-page monstrosity of a book, which I actually wanted to read. I took it to my grandma's house with me, and opened the pages to the book that started it all, right there in the back bedroom.

I finished the book within three days, and I was absolutely amazed. I didn't think about the fact that I had been reading so much, for I was in another place, in the town of Forks, Washington. I didn't have to think about turning the pages, it was an automatic motion, almost as if the book was doing so itself, longing to be read, to be paid attention to. As I read, I discovered that a 498-page book of nothing but words could easily become a picture book. The imagined characters, if written well, could become like a movie in your mind, a mural of the side of your skull, if you only know how to get lost between the lines.
I had no idea that a book could do this to a person. A book could make you anxious when the fictional characters are in danger. A book can make you sad when the characters, that you drew a picture of in your mind, are hurt. A book could give you butterflies when a girl was nervous about a boy. A book can, quite literally, open new doors: to other worlds, and to new parts of the mind that you never even though of using before. A book can even inspire you to write: to change the story to the way you wish it had gone, or to spark your imagination to a whole new idea.
Twilight did all of this, and more, for me. After that, I read, read, read, all the time, everything from action and adventure, to mushy gushy romance stuff. I wrote fan fiction pieces; sometimes to adjust the story, or to add on to my favorite characters lives. Some of my best writing is done when a book inspired me.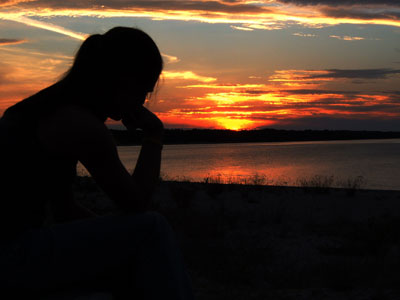 © Hilary L., Rogers City, MI