The Dead of Night
July 5, 2012
Her father climbed down from their make-shift beds in the branches, and looked up at his daughter.

"I'll be resetting the traps," he said, "don't let anything past your guard while I'm away."

She nodded, and switched the safety off of her gun in response. "Alright Dad."

He smiled. "Be careful with that, your aim isn't as good as you think."

She chuckled, and set the gun on her lap. "But it's better than yours, old man"

He laughed, and then turned around and disappeared into the darkness. The girl sat back against the tree, and closed her eyes, listening to the sounds of the forest at night. In the distance, an owl hooted, and could be heard ringing throughout the night sky. Somewhere to her right, leaves rustled, hinting that there was a small animal burrowing into the ground. The wind blew slightly, pushing a few loose strands of hair into her face. After taking a few deep breaths, she felt her mind and muscles relax.

Then, she heard a low growl to her left. She opened her eyes, and flattened herself against the branch, pointing her gun at the sound emanating from the darkness between two trees. The growl came again, louder this time, and she prepared herself to pull the trigger. Then, she heard a loud yelp, and pulled the trigger. A huge BANG rang out into the air, startling all the birds out of their nests, and then all was silent.

Cautiously, she jumped out of the tree, and went to go see what she had shot. At first, she couldn't see anything, for the moon was covered up by a thick cloud. But then, when the moon came out, she screamed.

Her father was holding a squirming baby bear with one of the traps engaged on its foot, with a bullet through his heart where the bear's head would have been.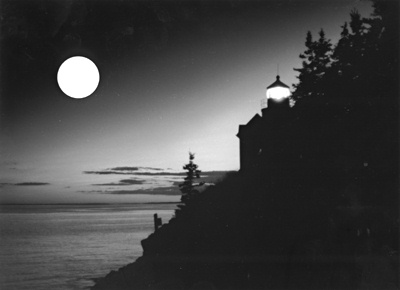 © Steve S., Marblehead, MA