Josue
December 18, 2008
I felt the anticipation rise up from my chest and into my throat as we pulled into the driveway. The moment I had been picturing over and over again for months was finally here. The gates to the orphanage were slowly lifting above the van. We drove inside and began to unload. I anxiously looked around for him, but failed to find the little face I had seen in photographs. Many handshakes, hugs, and hellos were exchanged. It seemed like hours had passed before we were finally directed into a small room in a corner of Hogar Belen. Other children were roaming about the room, but my eyes instantly fell on one small, dark-eyed boy standing at the foot of a crib. At that moment, I knew everything was going to work out. The little, black-haired boy with one shoe in his hand was my new little brother.

First moments are always strange. Emotions were running through my body: happiness, nervousness, shyness, boldness, sadness. Thoughts I couldn't seem to get control of: "Should I say 'hello'? Give him a hug? Say nothing until we are introduced?" One thing I was sure of: the overwhelming love I already felt for my new brother. All I could do was bend down and whisper, "Hóla." We bonded almost instantly. His dark eyes seemed to peer deep down into mine. And the memory of the first time I saw him smile will stay with me forever.

The next few days went by faster than I could ever have imagined. Our trip was planned as a step in the adoption process; simply for my sister and myself to meet him, turn in our forms, and return home to finalize the process. But, it quickly became much more than that. It became a bonding experience for all of us. Laughs were shared, love exchanged, strong bonds made. We learned aspects of his personality that amazed us. We communicated, even though we could not really understand each other. We felt right at home when he crawled into bed between my sister and myself, only to fall asleep right there with us. It was a perfect fit. All of us knew he was right where he belonged.

Goodbyes are always hard, but this one was the hardest I have ever experienced. We all knew, as we sat down to dinner on the last night, that our little boy would soon be leaving us. He had to go back to the orphanage in Managua, Nicaragua and we had to go home to Atlanta, Georgia. We stood outside, waiting for that green van to pull up in front of the hotel. We hugged, kissed, cried, and laughed in an attempt to lift our spirits. I secretly wished that the van would never come. Nevertheless, it pulled into the roundabout and final goodbyes were uttered. As we watched them pull away, we cried hopeful tears. We all felt that the time when we could take him home and be his true family would come sooner than we knew.

The adoption process seemed to take ages. Interviews with social workers, multiple trips to the notary office, and meetings with lawyers and judges filled the last few months of 2005. Our entire family was stressed about everything that was happening, what needed to happen, and what was about to happen. Needless to say, there was a time when it almost appeared that it was not going to work out. But, everything fell into place. I remember the day when my parents were returning from their final trip to Nicaragua. But this time, they were bringing home a special present, the one my sister and I had been waiting for: our new little brother, Joshua.

It was the night of our high school chorus Christmas concert. All day, the other members of the chorus were nervously awaiting the concert. I, on the other hand, was anxious to be reunited with that sweet little, dark-eyed boy. The concert seemed to last for hours. I could not bring myself to focus on the words I was singing; all I could do was scan the crowd to try to find my little brother. After the concert, I literally sprinted to the lobby of the Fine Arts building and saw him for, what seemed like, the first time. The same feelings I felt months before rose in my chest, and I knew that everything was going to work out.

The past three and a half years have not been easy, to say the least. A brand new addition to our little family of four threw us all for a loop. Still, I would not change it for the world. People always ask if it is different with a little boy in the house. My response is usually, "Well, it is definitely louder." But, there is much more to it than noise. We are happier. Laughter is more often heard in our household. Joshua brought a joy and humor to all of us that we had never experienced before. He teaches us new things every day, whether he realizes it or not. Now, in saying that, things are not always fun and games. There have been some rough times in which we all have struggled. Throughout all of this, though, we have grown closer as a family and love each other even more so than before.

Joshua's adoption proves to be one of the biggest 'growing' periods in my life. It was the hardest and best thing I have ever experienced. Throughout the whole process, my life changed, and is still changing to this day. I began to realize how greatly love could change a person's life. My brother had never known about love the way I have known it my entire life. He had never experienced what it feels like to have a family. For the first time in my life, I learned true patience. Having a little brother is quite different than just having a sister. I discovered pure joy. Knowing that our family changed this little boy's life and gave him loving arms to run home to is possibly the greatest thing I could ever imagine.

But, most importantly, I realized how incredibly blessed we are. Whenever I think about Joshua's life before the adoption, it completely astounds me. I remember the gigantic smiles on the orphan's faces when we announced that we were taking a trip to Pizza Hut. Something like that would not have created the same reaction here in the states, for the most part. But to those children, a trip to Pizza Hut was a special event. Now, three and a half years later, I still remember their simple joy. It continues to remind me of just how fortunate we are, regardless of circumstances. Joshua brought new things into my life, including a completely new perspective. His adoption into our family has been and will be the greatest experience of my life. And I would not trade it for the world.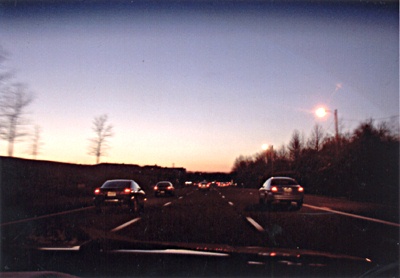 © Carolyn K., Toms River, NJ