Cleared for Takeoff
MAG
"Meriden Ground, November 77522 Papa is readyto go at Runway 36 south departure to Tweed."

"November 77522Papa Cleared for takeoff, departure south approved. Cleared for takeoff, November77522 Papa." This was the most important thing I needed to do before I couldtake off in the Cessna 172. This was the first time I would be flying a realaircraft.

I have wanted to fly ever since I started using Microsoft FlightSimulator 2002, so my stepmom signed me up for the United States Air ForceAuxiliary. Basically, it is a program that shows kids 12 and up what they wouldbe exposed to in the military. One of the activities is flying. Almost every kidwas afraid of flying (probably due to movies they have seen where something goeswrong with the engine) and didn't want to fly, but I did. I hopped right into thepilot's seat and warmed up the engine. I then got clearance to taxi onto runway36. I released the brakes, boosted my engine, and before I knew it, I was at therunway. Getting clearance to take off at 120 miles per hour, I took off perfectlyand headed south toward Tweed-New Haven Airport.

Cruising at a sustainedspeed of 135 miles per hour and an altitude of 6,500 feet, I opened my window andstuck my head out to see how it felt. A great blast of air threw my head backlike whiplash, but it was worth it. I looked to my right and saw a DeHavillandDash 8400B landing in Bridgeport, and to my left a Bell 208B Helicopter going toBradley International Airport.

I then tuned my radio to New Haven TowerAirspace. "New Haven Tower, November 77522 Papa is type Cessna 172 Skylane,requesting permission to land, Runway 9L with Oscar."

"November77522 Papa, New Haven Tower, make straight in, runway 9L. Make straight in,runway 9L." Runways are given names from their points at the end of thecompass. I then looked at my co-pilot, Captain Kwalek, and he said, "Are youjust going to sit there, or are you going to land this thing?" Withpleasure, I took the wheel and did a 180 turn and was perfectly lined up withrunway 9L.

"November 77522 Papa, cleared to land, runway 9L, numberone for landing. Cleared to 9L, Number 1, November 7522 Papa."

Then,with a large thump, the wheels of my Cessna glided onto the tarmac for a perfectlanding. My instructor said I did an excellent job.

That was my first timeflying. Scary? Not at all, but a lot of concentration is necessary for a safeflight. I definitely plan on getting my pilot's license.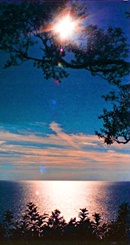 © Anonymous